June Take 5
Art truckin' with Mushpa + Mensa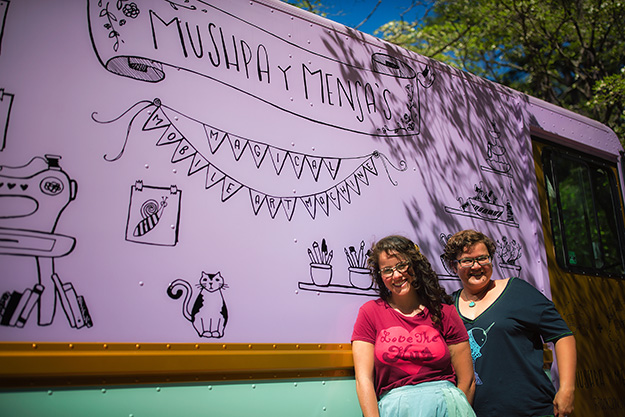 MARIA-EMILIA BORJA and CARA REYNOLDS are the artistic entrepreneurs behind Mushpa + Mensa, a mobile, eco-conscious boutique that sells a variety of organic cotton tees and unique, upcycled wares. The Wilmington transplants threw their hats into the growing mobile business model but offered an innovative approach with their whimsical, solar-powered vehicle. As they log more miles, the team (collectively) share their thoughts on starting a business.
SINCE YOU'RE CREATING SOMETHING NEARLY EVERY DAY, WHAT DO YOU USE AS A SOURCE OF INSPIRATION?
"We have many sources of inspiration. One way we find inspiration is we wake up and write morning pages, which is a stream of conscious writing we do for a half hour. You'd be surprised what comes from that. It is a way to release static energy that may block creativity, which naturally flows through us all."
WHAT ABOUT YOUR BUSINESS BRINGS YOU THE MOST JOY?
"The freedom to be our own bosses. It is a hustle because we have to make it all happen every day. We don't really have 'days off,' but the rewards of having a say in everything that you do in your daily life is pure bliss."
WHERE IS THE COOLEST PLACE MAYA (THE TRUCK) HAS VISITED THUS FAR?
"We love the mountains of North Carolina. Hot Springs, Green Mountain, and Black Mountain are a couple of beautiful places we have brought Maya, the Magical Mobile Art Machine."
WHAT DO YOU LOVE MOST ABOUT WILMINGTON?
"The hidden gems. We have been here for about two years, and we constantly find new little spots, people, and places that are not necessarily in open view, but are definitely worth our time. Plus, it is 70 degrees here in February, need we say more?"
WHAT ADVICE WOULD YOU HAVE FOR OTHER CREATIVE, FEMALE ENTREPRENEURS?
"Jump! If you have a dream, follow that path."
To view more of photographer Chris Brehmer's work, go to www.chrisbrehmerphotography.com.