June Spotlight
Area women making news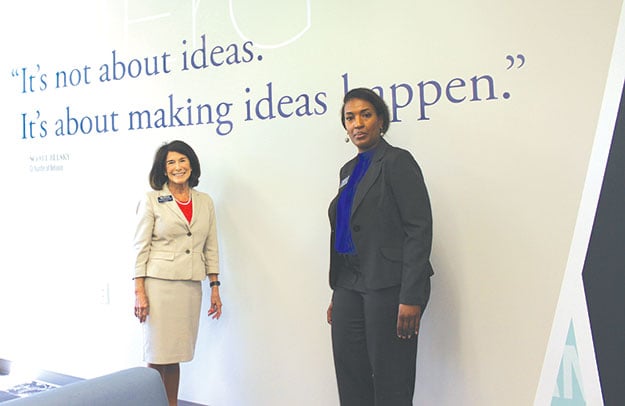 BCC SMALL BUSINESS CENTER LAUNCHES CINErG
APRIL SCOTT noticed that owners of startups in Brunswick County were working at coffee shops, at home, or anywhere else they could get a Wi-Fi signal. She witnessed two entrepreneurs having a meeting in a grocery store parking lot. That anecdotal evidence convinced Scott, director of Brunswick Community College's Small Business Center, that Brunswick's burgeoning cadre of early-stage ventures needed a place to call home.
Her quest to develop co-working space led no further than her base of operations: the college's Leland Campus Business Incubator. She and BCC president SUSANNE ADAMS agreed to turn a spacious room in the incubator into a multi-purpose space where entrepreneurs can work, interact with each other and meet with clients.
At a ceremony May 2, Scott and Adams unveiled the new co-working space, dubbed CINErG: Center for Innovative Networking and Entrepreneur Groups. The center can accommodate 20 tenants; by May 2, Scott had already signed agreements with eight.
"Small businesses are the backbone of Brunswick County," she says. "Here at the center they can collaborate and network. So far, we have a good mix of tenants."
JODI RICH TACKLES ROADSIDE TRASH
Hate litter? Call JODI RICH.
Rich, a program coordinator with New Hanover County's Parks & Gardens department, started the county's Trash Mob initiative as part of beautification efforts leading up to the Wells Fargo Tournament in May 2017.
"The Parks Conservancy has volunteers, so we thought we could put them to work," she says.
The newly formed Trash Mob cleared litter from roadsides, and has continued as a quarterly effort along Harris Road.
"The park staff keeps our parks pretty clean, but going in to the parks, [the roadsides] can be messy. We have two parks off of Harris Road, so that seemed a good place. We have now adopted Harris Road through the Adopt A Highway program," she says.
More volunteers have enabled Rich to expand Trash Mob cleanups. A second group, which includes students who need volunteer hours, rotates its litter pickup areas. And now a business, On Q Financial, has joined the monthly group.
To learn more about Trash Mob, call 798-7620.
​JANSON JOINS LIVE OAK LEADERSHIP TEAM
SUSAN JANSON, who became Live Oak Bank's chief risk officer last month, sees her role as one of anticipating problems or situations to protect the bank, its customers and its stakeholders. In other words, she's going to be the person to give the bank's leadership "a heads up or a thumbs up," she says.
"In the business we're in today, being able to do risk assessments, measuring, monitoring is very important," Janson says. "It's especially important for financial services. I've seen more and more institutions have a chief risk officer on board," she says.
Risks can result from any number of sources, from vulnerable technology systems to financial overextension, Janson explains, adding she will work to ensure Live Oak Bank has processes in place to identify a risk of any kind and get out in front of it.
Janson has more than 30 years of financial and risk management experience under her belt. As senior capital markets and securities specialist for the Federal Deposit Insurance Corp. [FDIC], she led regulatory risk assessments for financial institutions and helped the FDIC and other government agencies to understand and implement sound governance practices.
RIVERS INDUCTED INTO SPORTS HALL OF FAME
A former Hoggard High School basketball player was one of four local sports standouts inducted into the Greater Wilmington Sports Hall of Fame in early May. NANNA RIVERS, who played under legendary coach Kay Yow at N.C. State University before taking her hoops skills to Europe for five seasons, says that being recognized by her hometown is an "amazing experience, to say the least."
Playing basketball in four countries – Holland, Poland, Finland and Germany – did more for Rivers than just extending her career as a player. Living abroad and getting to know people from different cultures, she was impressed with the quality of life that surrounded her.
"There was an appreciation of family, of self-care. It blew me away," she says.
Returning to the U.S. in 2010, Rivers coached collegiate basketball at Seton Hall and Monmouth University for five years before deciding to put into practice some of the life lessons she had learned. She became a personal growth and life coach, and established Nanna Rivers Coaching in Raleigh.
She works with people in their late 20s through mid-50s who want to take a different approach to life changes, saying "We assist them towards improving their self-care mentally, emotionally, spiritually and physically, to achieve their fullest potential and rise to new heights." More info: www.NannaRivers.com
Want more WILMA? Sign up for our WILMA Weekly email and announcements at WILMAOnTheWeb.com.