June Spotlight
Spotlight on area women making news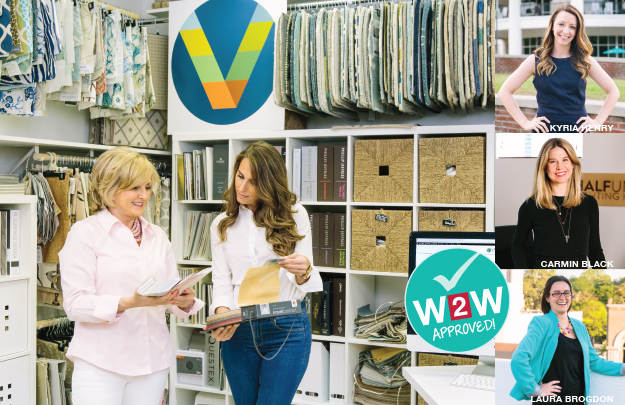 Several women are among this year's slate of ten Coastal Entrepreneur Award winners.
KYRIA HENRY, executive director of paws4people, won in the Nonprofit category for the expanding group's work with assistance dogs. Accessories company Half United, which CARMIN BLACK cofounded with her brother, won in the Retail category. The company has a giveback model to donate part of it sales to anti-hunger groups.
Vavaroom, an online interior design company founded by CATHY MAREADY and MEGAN SMITH (above), won in the Internet-Related category. And LAURA BROGDON was highlighted in her role with helping get the Cucalorus Connect conference off the ground in the Film category.
The awards are a joint program of the Greater Wilmington Business Journal and University of North Carolina Wilmington's Center for Innovation and Entrepreneurship.
– Vicky Janowski
YWCA Names New Executive Director
The YWCA Lower Cape Fear hired a new executive director, after a six-month search.
CHARRISE HART begins her new role with the YWCA on June 14, says Jenni Harris, president of the group's board.
The search for a new executive director began in late October, six weeks after the departure of the previous director Susan Fennell, who left the YWCA after serving for about five years.
Hart comes to the Wilmington area from Greensboro, where she has served the YWCA as chief operating officer for more than two years. Her experience with the YWCA goes beyond her role in the organization's leadership. Hart says she was first introduced to the YWCA when her mother volunteered with the Greensboro nonprofit in 2001.
– Christina Haley O'Neal
Educators Earn UNCW's Razor Walker Awards
This year's Razor Walker Award winners have gone the distance to support the education of young people across the State of North Carolina.
The Razor Walker Awards are sponsored by UNCW's Watson College of Education and honor individuals whose work has impacted the lives of students and young adults in various and important ways.
Recipient EMMA JACKSON (left), one of six honorees this year, was recognized for her fifty-two-year career in New Hanover County Schools. Prior to her retirement in December, Jackson served as federal programs director for NHCS. She also held positions as a teacher, principal, and director of instructional services.
And DELORIS RHODES, apart from her career as an outreach liaison for Watson, was honored for being a founding member of UNCW's Dropout Prevention Coalition as well as the Girls Leadership Academy of Wilmington, among other numerous local involvements, a news release stated.
– Ryan Haar
Neonatologist Honored for Nest Program
KATHRYN COLACCHIO, a neonatologist and medical director for simulation at Coastal Children's Services, recently received a national industry award for her work to improve health outcome of critically ill and high-risk newborns.
Her efforts with the Neonatal Education & Simulation Training (NEST) program is designed to improve communication, medical knowledge, and clinical skills of delivery room providers and transport teams.
Colacchio, along with Coastal Carolina Health Alliance's lead educator/mobile simulation manager DEBORAH STOKES, were recognized at the Elevate 2017 Conference in Orlando, Florida.
"It is important for clinical teams in smaller institutions to feel supported when they may not have the resources to care for a critically ill infant," Colacchio says.
– Vicky Janowski
To view more of photographer Lindsey A. Miller's work, visit www.lindseyamiller.com.