June Spotlight
Spotlights on area women making news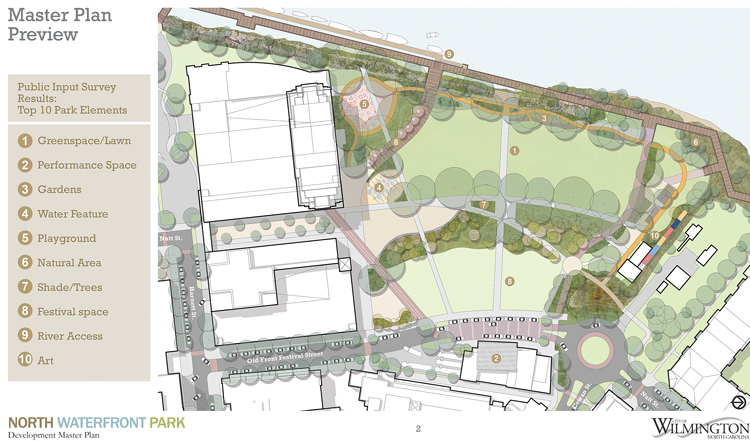 North Waterfront Park plans take shape
City council members recently heard details about what North Waterfront Park in downtown Wilmington could look like.
The 6.6 acres of land on the Cape Fear River is a blank slate, and city officials who worked on its master plan had received more than a thousand comments from the public on ideas for it. The master plan's recommendations (above) include features such as a performance area, playground, and gardens.
One potential source of money to develop the project is a $38 million parks bond that could go before voters in November. The North Waterfront Park, at $20 million, would be part of that bond package proposal, which city council members are slated to talk more about this month.
"The next steps if the bond passes," says AMY BEATTY, the city's superintendent of parks and recreation, "would be to hire a consultant to design the park and develop construction plans."
– Vicky Janowski
Johnson promoted to MedNorth CEO
MedNorth Health Center's board of directors recently announced that ALTHEA JOHNSON has been promoted to chief executive officer. She has been in the health care industry for many years and has been the chief operating officer at MedNorth since 2007. A Wilmington native, Johnson will bring her health care and administrative experience to the position and promote the facility's mission of providing accessible, affordable and quality medical care.
"As Wilmington's only federally qualified health center, we're excited to have Ms. Johnson at the helm of MedNorth Health Center as we expand our healthcare services in this region," a news release states.
MedNorth has been serving the area for more than twenty years with adult and family care to dental and prenatal care.
-Naomi Spicer
MegaCorp Logistics makes Top 50 list
MegaCorp Logistics, led by CEO DENISE LEGG, is a national full truck load freight management company based out of Wilmington. Legg's company recently was named twenty-fourth on the American Express and Women Presidents' Organization national list of "50 Fastest-Growing Women-Owned/Led Companies."
The Women Presidents' Organization, a national nonprofit with 127 international chapters, co-sponsored the list, which ranks companies based on their sales growth in a formula that combines percentage and absolute growth.
The accomplishment follows MegaCorp Logistics' increase in revenue from $81.5 million to more than $112 million over the past two years. The company has also been able to add eighteen employees during the same time, officials say.
Altogether, the companies on the list had a total of nearly $5 billion in revenue last year and employed more than 44,700 people.
-Naomi Spicer
UNCW 's Watson College of Education
names Razor Award winners
Four community members were honored with the University of North Carolina Wilmington Watson College of Education Razor Walker Awards.
The award goes to community members in education, government, business, and community organizations who exemplify vision, tenacity, courage, and sacrifice to better the lives of young people, officials say.
This year, the awards went to: HANNAH GAGE, the first women to chair the UNC Board of Governors who will hold the state House District 20 seat; JUNE ST. CLAIR ATKINSON, the first woman elected state superintendent of public instruction; the REV. CLIFFORD BARNETT SR., pastor of the Warner Temple A.M.E. Zion Church; WANDA MARINO (above), assistant director at the New Hanover County Department of Social Services; and Community Schools of the Cape Fear.
-Naomi Spicer