June Spotlight
Area newsmakers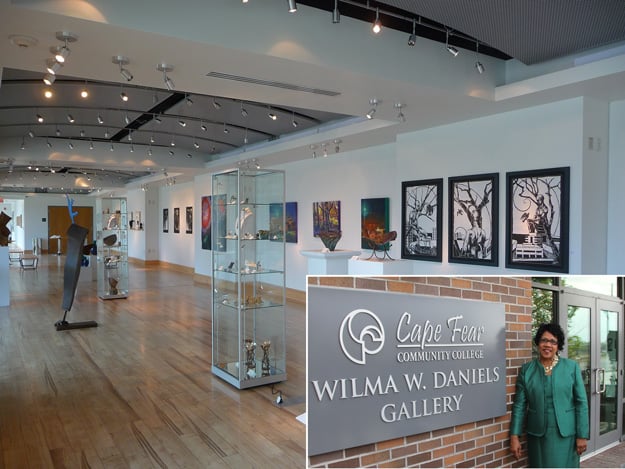 CFCC unveils art gallery name
Cape Fear Community College has named its new art gallery in honor of local resident and higher education supporter Wilma Daniels.
The gallery, 200 North Hanover Street, was renamed the Wilma W. Daniels Art Gallery during an unveiling ceremony. The space hosts pieces from artists in the region and displays work by CFCC students and faculty members.
Daniels, founder and CEO of Daniels Development LLC and founder of and property manager for William Hooper Apartments, currently sits on the University of North Carolina Wilmington board of trustees.
She has worked with the CFCC Foundation Board and "provided scholarships and financial assistance for dozens of students," according to a statement from the community college.
YWCA recognizes Women of Achievement
The YWCA Lower Cape Fear recently handed out the annual Women of Achievement Awards during an event May 9 put on in conjunction with WILMA. Sixty-seven women and young leaders were nominated.
The winners were: Tracey Varga (arts), Kristin Cooper (business), Amanda Greene (communications), Nora Noel (education), Cheryl Moody (environmental), Connie Hill (health and wellness), Donna Bost (public service), Beth Quinn (volunteer), Edelmira Segovia (the Rachel Freeman Unsung Hero Award), Anna Brodemerkel (young leader), Sophie Kot (young leader), and Alexandria Natoli (young leader).
The young leader award winners each receive a $1,000 scholarship.
Music project comes to Wilmington
The Flashband Project, which brings together musicians to form temporary bands for a one-night show, comes to Wilmington for the first time.
The project that started in Washington, D.C., pairs performers from a variety of backgrounds and styles. After rehearsing together for a month, ten Flashbands will each perform a fifteen-minute set – featuring at least one original song – at the Wilmington show June 8 at Orton's, 133 North Front Street.
Musicians for the Wilmington event met May 11 during a meet-and-greet jam session held at the Art Factory.
Smart Start highlights child advocates
Smart Start of New Hanover County named Pam Taylor, a pediatrician with Wilmington Health, and Linda Heath, an early care and educational professional, as its Smart Start Champions.
Each year, the nonprofit group Smart Start awards individuals who make a positive impact on children's health, family support, and early care and education, according to a news release.
Taylor received the honor due to her work with the North Carolina Pediatric Society. Through the Pediatric Society and Wilmington Health, Taylor helped secure funding for a foster care coordination project at the practice.
Heath has tirelessly helped her son, who has Down syndrome, prepare for school. She spent months preparing for his arrival in her classroom, enrolling in a sign language class and meeting with his prior teachers, preschool director, and therapists, according to the release. She has been an advocate for him and her other students, the release stated.
WILMA readers:
July brings WILMA's annual Insiders issue with suggestions from those in the know about what to do and where to go in the area. Share your favorite local spots on WILMA's Facebook page (www.facebook.com/WilmaMag) or on Twitter (@WilmaMag).