June Men's Room
5 Ways to Get Your Groom Involved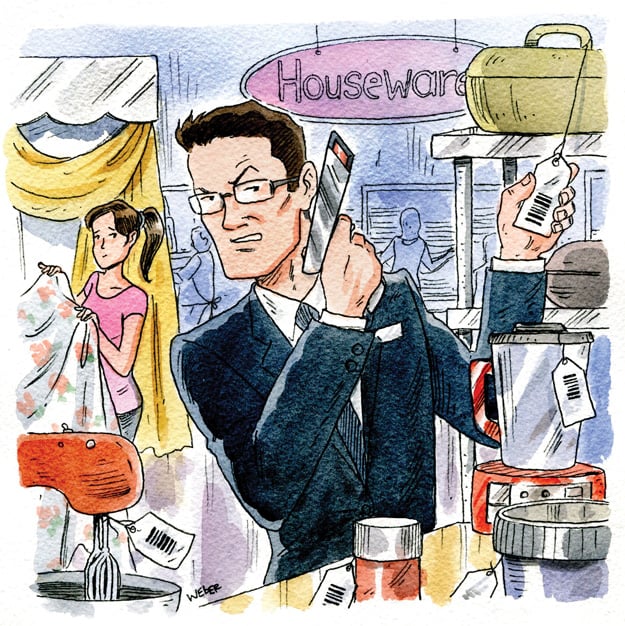 Most grooms have the mentality "just tell me when to show up."
This doesn't necessarily mean he lacks interest in planning your wedding; he probably thinks he's not supposed to be involved.
He assumes you, your mom, and bridesmaids are taking care of it all with the endless phone calls, texts, and emails.
So how do you get your man involved …
1. Food
It's no secret, men love to eat. Take him to the tastings with the caterer. Let him get creative … perhaps incorporate a variation of his favorite pasta dish as a side item. There's tons he can help decide – entrée choices, side items, late night bites – perhaps a late-night breakfast station?
Tell him he can have steak and eggs at the wedding, and he'll be game. I know you won't have to twist his arm on deciding which types of beer to have, either. (Ladies, it's okay to veto the PBR.)
2. Music
Whether you are having a DJ, band, or even an MP3 player, put him in charge of the song list. He'll have fun putting it all together. If you're not completely sure he won't put "Baby Got Back" on this list, then this can even be something you sit down and do
together. Have a date night. Open up your iTunes, order some Chinese, and uncork a bottle of your favorite red.
3. Registering
Tell him he gets to carry around a gun and zap things. Make sure he knows it's not about deciding between two indistinguishable china patterns. You can shop in advance online for the things that you know will bore him – towels, shower curtains, etc. He probably doesn't realize that fun things are allowed on the registry. Perhaps hint at the grill tools he's been eyeing for the past year or the latest Xbox player (doesn't mean anyone's actually going to get it for him. Poor fella.)
4. Groomsmen
His boys are his responsibility. He is in charge of the pack. He needs to make sure their travel plans are set in stone, they make it to their fittings, pick up their tuxes and shoes (and try them on long before the day of), and get to the church on time. The
challenge of finding a personalized gift for each of his boys to show his appreciation could keep him busy for quite awhile.
5. and finally, the honeymoon
Let's face it – you're going to be so involved in fittings, bouquets, and violinists, the last thing you're going to have time for is deciding whether you want to take scuba lessons on the third or fourth day of your honeymoon. Put him in charge of your after-wedding adventures. It's up to you if you want him to surprise you with the plans or not. Just beware, that could be dangerous
To view more of illustrator Mark Weber's work, go to www.markweberart.blogspot.com