July Take 5
Janna Siegel Robertson on community art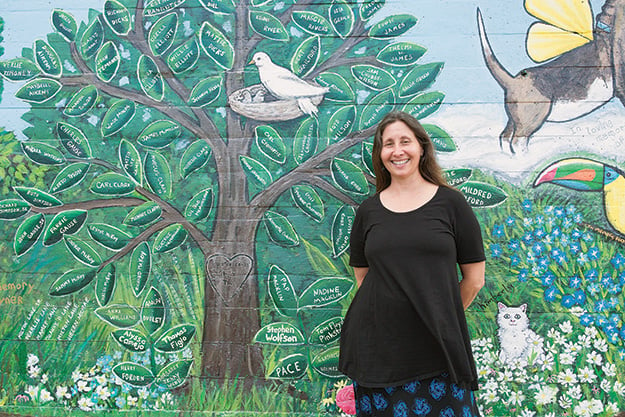 A year after completing the Forest of DREAMS in the Northside area, project organizer JANNA SIEGEL ROBERTSON says the art project – a 240-foot mural made by hundreds of volunteers for the DREAMS of Wilmington nonprofit – continues to make an impact on the neighborhood. "The story of how it (the mural) has transformed lives is really humbling," says Robertson, a professor at UNCW's Watson School of Education.
DOES ART PLAY A ROLE IN YOUR WORK AND TEACHING IN THE EDUCATION FIELD?
"Absolutely! I am co-coordinator of the Dropout Prevention Coalition at UNCW, and the arts are one major way to interest students in staying in school. The arts are excellent ways for individuals to communicate, and creativity is the highest form of learning."
WHAT'S YOUR FAVORITE PART OF THE MURAL?
"I still am deeply touched by the legacy tree since I have learned so much hearing about people's loved ones. But my favorite part has to be the beginning section by Wally gator created by my daughter Jessie and myself. The creatures at the beginning were the first ones we drew but the last ones painted, so they signify the beginning and end of the mural for me."
WHAT OTHER PUBLIC ART PIECES IN WILMINGTON DO YOU LIKE?
"I like Paul Hill's 'Southern Hospitality' – the Venus flytrap downtown. My favorites are his steampunk animals like 'Straining to Be.'"
WHAT'S YOUR #910 ROCKS! PROJECT ABOUT?
"When the mural was completed, people were still contacting me daily and still wanted to get involved with community art. At the same time, friends in Memphis started joining a group called '901 Rocks' and decorating and hiding rocks all over Memphis. That seemed like a fun project to do, so I asked my friends on Facebook what they thought. I got several positive responses within a few minutes and started a page with my friends … We get multiple stories where people let us know they find rocks that told them just what they needed to hear on a rough day."
WHO'S THE BEST SPEAKER YOU'VE HEARD LATELY DELIVER A SPEECH?
"My favorite speaker to invite to my classes is the brilliant Judy Stubblefield with New Hanover County Schools."
To view more of photographer Chris Brehmer's work, visit chrisbrehmerphotography.com.