July Spotlight
Area Newsmakers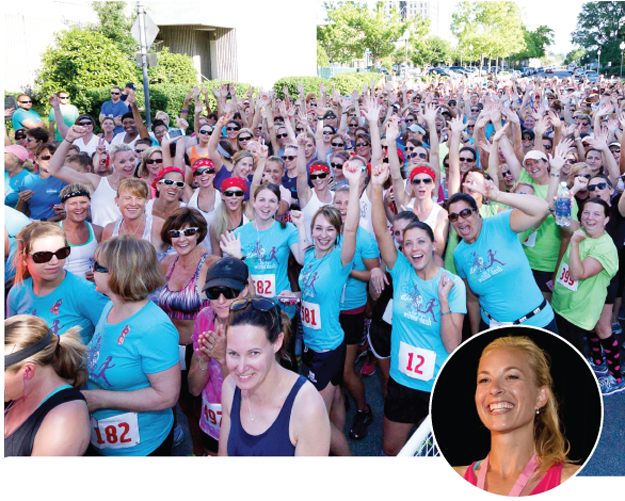 This year's WILMA Dash, brought out more than 600 runners and walkers May 30.
First-place winner RHONDA SCHILAWSKI (above) ran the 5K for her second time, completing the race in 19:36 minutes at a pace of 6:19 minutes per mile, followed by LEANNE JOHNSON in second and SARA HALLENBECK in third.
Schilawski has been a runner since a young age and ran competitive cross country in college. Since becoming a new mom less than four months before her first WILMA Dash last year, Schilawski said she looked forward to participating in the race with an athletic comeback.
"As all women's race, it's less intimidating," Schilawski says. "I just had a great time, even afterward. It was cool to hang of with some ladies and just mingle and check out the expo."
– Lori Wilson
Hardy becomes first BC female manager
ANN HARDY has been named Brunswick County's manager, replacing outgoing Marty Lawing and overseeing a workforce of more than 1,000 county employees.
County commissioners voted in May to hire Hardy, making her the first female to hold the post in the county's history, Hardy says.
An eighteen-year resident of Brunswick County, Hardy previously served as a special assistant to the county manager.
She briefly filled in as the interim county manager before getting the official nod for the position.
Lawing announced in April that he was leaving for the manager position in Guilford County.
"In a position like mine, I decided to lean in to make a positive contribution to my county," Hardy says.
– J. Elias O'Neal
Woman-owned business takes CEA top honor

Local waste hauler Pink-Trash was the judges' pick as overall winner of the 2013 Coastal Entrepreneur of the Year.
The company, owned by KELLY BUFFALINO, has consistently outperformed its projections since its launch in December 2011.
"Every company at the awards was fabulous and doing important things," Buffalino said after May's Coastal Entrepreneur Awards.
The Coastal Entrepreneur Awards is a joint venture of the University of North Carolina Wilmington's Center for Innovation and Entrepreneurship and the Greater Wilmington Business Journal to spotlight emerging ventures in the region.
One percent of all Pink-Trash's gross receipts go to Pretty in Pink Foundation Wilmington, that helps breast cancer patients.
– Jenny Callison
Hagan names Wilmington businesswoman to group

U.S. Sen. Kay Hagan, D-N.C., recently announced the members of her new Small Business Advisory Committee, including a Wilmington businesswoman.
LOUISE MCCOLL, owner and president of McColl & Associates and Flash Promotions, was one of seventeen people named to Hagan's group, designed to support Hagan's policy proposal development in fostering small businesses of North Carolina, according to a press release.
The advisory committee is made up of small business owners and advocates from across the state.
– Staff reports