July Spotlight
Area women making news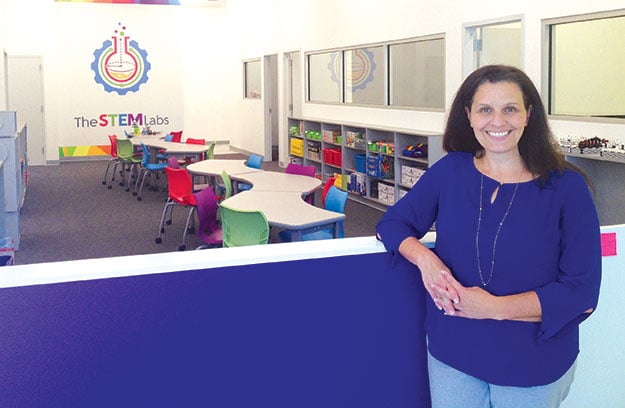 STEMMING FROM A BRIGHT IDEA
If you can imagine it, you can create it. That's pretty much the thinking of TINA CATALONE, who, with her husband, Brad, recently opened THE STEM LABS in Mayfaire Town Center. Just as the Catalones transformed their idea into reality, they hope their center will encourage youngsters to pursue their own ideas in the fields of science, technology, engineering, and math.
Catalone (above), who holds a Ph.D. in molecular biology, has career experience in research and university-level teaching. Currently, she is part of a team at University of North Carolina Wilmington collaborating with other partners on a $250 million public-private national initiative to bring safe drugs to market faster and educate a new biopharmaceutical workforce.
After moving to Wilmington several years ago with their four children and deciding this was the place where they wanted to sink roots, the Catalones conceived of an educational business that would allow kids of many ages to pursue an interest in the STEM disciplines. They created a business model that would address the need for after-school as well as vacation programs for children from preschool through high school.
-Jenny Callison
AREA COMPANIES GARNER CEA NODS
Women-led organizations took home honors from the Greater Wilmington Business Journal's recent tenth-anniversary Coastal Entrepreneur Awards (CEA) ceremony.
This year's CEA awards, a joint program with University of North Carolina Wilmington, celebrated and selected overall winners from the past ten years of the awards. Each winner of the "Top Ten for Ten" designation was selected by a panel of judges, made up of members of the local business community.
Among the winners were: BITTY & BEAU'S COFFEE, a coffee shop that employs people with intellectual and developmental disabilities, founded by AMY WRIGHT; and DOCSINK LLC, which offers a cloud-based application called DocsInk Connect that aims to help medical professionals and health systems maximize clinical revenue, facilitate care coordination and streamline communication and is headed up by co-founder and CEO JULIE THOMAS (above).
HOWE EARNS COUNTY'S TOP TEACHER HONORS
New Hanover County Schools officials named CHRISTEN HOWE Educator of the Year for the entire school district.
Howe (left) teaches at BRADLEY CREEK ELEMENTARY SCHOOL. She and more than forty educators and principals were recognized at a banquet last month.
Howe, who works with students in the Academically or Intellectually Gifted program at the school, was also the Educator of the Year for the district's elementary schools.
KARI LOEBER, at Trask Middle School, was Educator of the Year for the district's middle schools, and CATHERINE COLEMAN, from Hoggard High School, earned the honor among high school teachers.
Anderson Elementary School Principal KRISTA HOLLAND was named the district's 2018-19 Principal of the Year. Holland and Howe now advance to represent the district at the regional and possibly state level.
"We rise by lifting others," Howe said when she accepted her award. "We can lift our students by getting to know them as people, building on their strengths, and empowering them to take ownership of their learning."
O'DONOVAN JOINS STATE WOMEN'S BOARD
Wilmington resident DANA O'DONOVAN was recently appointed by Gov. Roy Cooper to an at-large seat on the NORTH CAROLINA COUNCIL FOR WOMEN.
The council, established in 1963, exists to advise the governor, the state legislature, and state departments on issues affecting women in North Carolina.
Issues currently among the council's priorities are human trafficking, sexual assault, domestic violence, and treatment programs for abusers. The council also has commissioned four reports on the status of women in North Carolina. The first, Employment & Earnings, was published in June.
O'Donovan is the managing director of the Monitor Institute by Deloitte, a team within Deloitte LLP that "works with social impact-focused organizations and their leaders, helping to make the hard choices and take the necessary actions to advance progress on pressing social and environmental challenges," according to the institute's website, which further states that O'Donovan brings experience as a strategist, adviser, and nonprofit executive to a role that requires her to collaborate with leadership teams of national foundations and nonprofits to improve performance and maximize impact.
A graduate of the University of North Carolina at Chapel Hill, O'Donovan is a member of the UNC's Kenan Institute's board of mentors and also serves on the board of DREAMS of Wilmington.
Want more WILMA? Sign up for our WILMA Weekly email and announcements at WILMAOnTheWeb.com.