July Spotlight
Spotlight on area women making news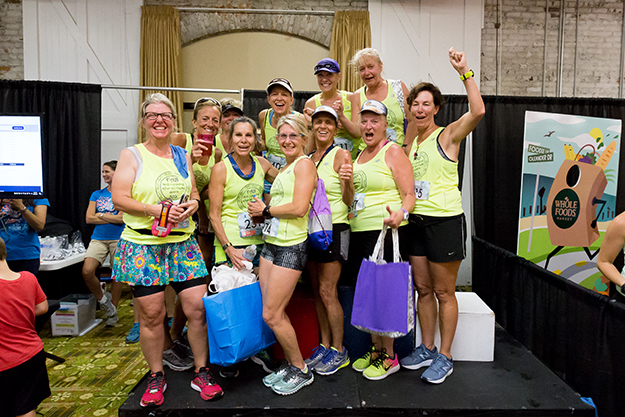 Runners Lace Up for WILMA Dash
Leading the pack of women at this year's WILMA Dash were BRITTANY COPELAND, KAREN ECKBERG, AND KIMBERLY MUELLER.
Copeland, who finished in 18 minutes, 16 seconds, has been running since middle school. She joined the Without Limits and Wilmington Road Runners running groups soon after she moved to the Port City.
A new mother, she is working on incorporating training into her new schedule.
"I had my daughter in December, so my training is not as strict as I would like it to be," she says. "As far as routine, on nice days I run pushing a stroller, one workout with Without Limits, and, if the weather is not permitting, I'm on the elliptical after I put the baby down."
Awards were also given to the most-spirited team – FAB 50s – and the largest team – LELAND LADY RUNNERS.
For more photos from the event, go to WILMA'S Facebook page. And for a full list of results, its-go-time.com/wilma-dash/.
-Suzanne Cosgrove
Cheatham Leads Hospital Foundation
Novant Health Brunswick Medical Center Foundation announced that CYNTHIA CHEATHAM has been named development manager for the hospital's foundation.
Cheatham's role includes developing fundraising plans, major gift initiatives, campaigns, and planned giving.
Cheatham has been involved with Novant Health for many years and has served as vice chairwoman on the Brunswick Medical Center Foundation board of directors and co-chairwoman for the foundation's Flip Flop Ball.
Before joining Novant Health, Cheatham worked as an outreach provider representative and a development manager at Lower Cape Fear Hospice in Wilmington.
-Ryan Haar
Barefoot Starts as Women's Basketball Coach at UNCW
UNCW women's basketball has a new nationally-recognized head coach who has seen success with four different institutions.
With twenty-two years of experience under her belt, KAREN BAREFOOT joined the Seahawks in May after six seasons at Old Dominion.
"I want to be a part of building something successful at UNCW and that really excites me to have that opportunity," says Barefoot in a UNCW sports information release.
During her time as head coach for the Lady Monarchs, she guided the program to a 103-93 overall record.
The Old Dominion team also had five winning seasons and three post-season appearances under Barefoot's leadership.
Prior to this experience, she also served as the head coach at Elon University, Lenoir-Rhyne University, and The Apprentice School.
A 1995 graduate from Christopher Newport University, Barefoot also had quite the career as a player. The four-time, All-Conference selection was the first player, male or female, in NCAA basketball history to garner 2,000 career points and 1,000 career assists.
-Suzanne Cosgrove
Local WIN Group to Become Independent
The Women's Impact Network of New Hanover County (WIN) is expected to become an independent nonprofit later this year, officials recently announced.
The group, founded in 2011 under the North Carolina Community Foundation's umbrella, focuses on women's leadership in philanthropy.
Members contribute annually to pool funding for grants to area nonprofits.
"We are so proud of what WIN has accomplished in just over five years and see this move as a natural part of its growth process," says ANNE SORHAGEN (above), a WIN member and the statewide foundation's regional director for the southeast, which includes New Hanover County.
Now that the local group's membership has grown, WIN is looking to seek its own 501(c)3 nonprofit status.
"This status will give us maximum flexibility," WIN Chair Linda Brown says.
The two entities will continue their official ties through the current grant cycle, and the recipient of WIN's grant this year will be announced in October.
-Vicky Janowski
To view more of photographer Mark Steelman's work, visit www.marksteelmanphoto.com.