July Spotlight
Spotlights on area women making news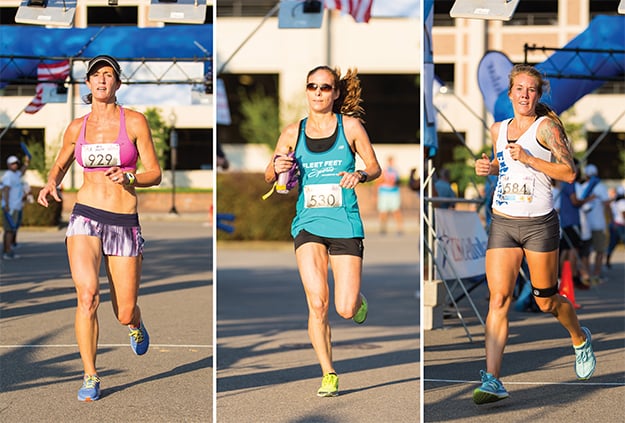 Mad dash to the finish line
At this year's 8th annual WILMA Dash on May 26, nearly 1,000 women took part in the 5K. But it was ERIN HOGSTON (above, from left), KIMBERLY MUELLER, and BRITTANY PERKINS who led the pack as the top finishers.
Mueller came in first overall with a time of 19 minutes, 32 seconds. Hogston placed second at 19 minutes, 53 seconds. And Perkins clocked in at 20 minutes, 9 seconds for third place.
This year's run also included new age divisions for kids age sixteen and under – thirteen-year-old ISABELLA BUFALINI won at 21 minutes, 35 seconds – and a Masters division, which BRENDA ESTLACK won with a time of 21 minutes, 52 seconds.
Prizes also went to the Most-Spirited Team (Scrambled Eggs and Achin') and Largest Team (Live Oak Bank).
For photos of the run and after party, see page 30. For all the results, visit its-go-time.com/wilma-dash.
– Vicky Janowski
​UNCW names new CIE director
University of North Carolina Wilmington officials last month named a new director for its Center for Innovation and Entrepreneurship.
DIANE DURANCE, who previously worked as president of the Michigan-based MiQuest that supports early- and second-stage ventures, started at the CIE last month.
She also had served as executive director for Great Lakes Entrepreneur's Quest, the predecessor to MiQuest and president of the Ann Arbor IT Zone, the region's first incubator for startup technology ventures.
"The CIE is very similar to a program I ran with the Ann Arbor IT Zone, associated with the University of Michigan," Durance says. "What the CIE aspires to do is very similar to what we did: connect the community with the university, with advisors, entrepreneurs, and funding."
– Jenny Callison
Acupuncturist Born earns certification
Licensed acupuncturist and Cape Fear Community Acupuncture Owner ALISON LARMEE BORN recently became a Fellow of the American Board of Oriental Reproductive Medicine.
Born is the only acupuncturist board certified in the field in Southeastern North Carolina and one of only twelve in the state, according to the certifying group.
Before even taking the board's exam, providers must be licensed for at least two years.
They also must finish forty-five hours of ABORM-approved continuing education unit courses.
Her new designation means Born has "extensive study and knowledge of treating various infertility issues through Oriental Reproductive Medical techniques," officials say.
"The treatment of infertility can be complicated for many reasons," Born says, "so furthering my skills to the highest level to better serve infertile women, men, and couples in our community became a top priority of mine of the past few years."
– Vicky Janowski
​McColl becomes CFCC Foundation's first board emerita
The Cape Fear Community College Foundation recently announced that LOUISE MCCOLL as its first board member emerita.
McColl previously served two, six-year terms on the foundation board and was chairwoman for two of those years. She was also a three-year term member of the college's board of trustees. As an emeritus foundation board member, McColl can continue to advise the board.
McColl, who is president of McColl & Associates, helped the foundation reach the $1 million fundraising goal for the first time during her tenure as chairwoman. She also started the effort to renovate the Schwartz Center.
She serves on twenty boards locally and nationally and chaired the Commissioning Committee for the Submarine North Carolina SSN777.
– Hunter Joyner