July Spotlight
Area newsmaker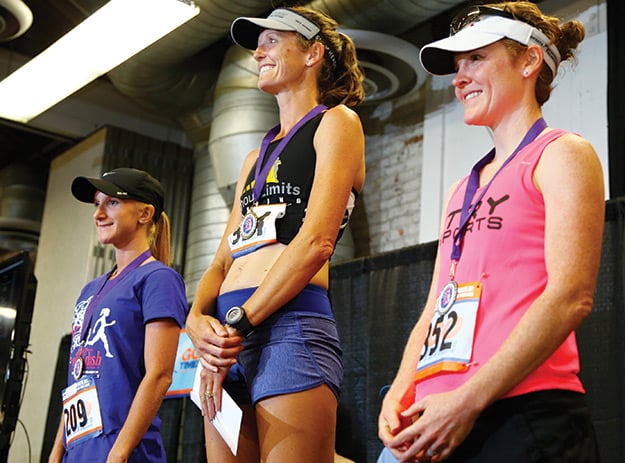 DASH-ing to the Finish Line
The annual WILMA Dash, an all-women 5K race, reached new heights this year with nearly 1,000 registered runners. Teams and individuals participated in the seventh annual run on May 28.
BRIDGET PHILLIPS was awarded the first place overall winner with a time of 20:05.9.
L. JOHNSON landed second with 20:27.5, and MORGAN EDWARDS came in third with 20:35.2.
As the total number of participants grew, so did the teams. WITHOUT LIMITS SOLE SISTAS was presented with the award for the largest team with a whopping sixty-two women. The prize for the most spirited team was given to the SWANSON SWEETIES. As with prior years, participants concluded their night with the Health Fest Afterparty.
– Carly Rutledge
ILM Rolls Up IN Brewskee-Ball national Win
The National Brewskee-Ball Championship recently awarded TRACY TOWNSEND the individual trophy at this year's finals in Austin, Texas.
Brewskee-Ball became the first competitive skee-ball league when it rolled into Wilmington in 2007, according to Wilmington Breewskee-Ball.
Townsend has been playing since 2010 when for her, the sport adapted from a girls-night-out activity to a competitive game.
"Brewskee-Ball has become more than just a hobby, (and) the people have become family," Townsend says.
– Carly Rutledge (photo c/o Aimee Bonamie)​
TACT Awards Student Scholarships
The Thalian Association Community Theatre (TACT) recently awarded local teen HELENA BOLDIZAR with its $500 Pat Hingle Scholarship.
Recipients of the annual allowance are chosen among high school seniors for their outstanding involvement with the community theater association.
The group also awarded its $2,600 Donn Ansell Scholarship to New Hanover High School graduate Zachary Hutchinson, who plans to study film and video production at CFCC.
Helena, who recently graduated from Hoggard High School, plans to study broadcast journalism and theater at University of North Carolina at Chapel Hill.
Helena has been highly involved in the theater both on and off stage since she was first cast in TACT's Youth Theatre production Babes in Toyland in 2003.
– Carly Rutledge
CFCC Picks Lee as New President
Cape Fear Community College trustees in June picked AMANDA LEE as the college's next president.
The board's unanimous decision headed to the State Board of Community Colleges for final approval in mid-June (after press time).
Lee, previously vice president for instructional services for CFCC, has served as interim president since the resignation of former college head Ted Spring in January. Spring later filed a lawsuit about his departure that asks for damages and reinstatement.
She began working at CFCC in 2003 as an instructor. Lee earned a bachelor's degree in telecommunications and master's degree in communication studies from Baylor University and a doctorate degree in communication arts from Regent University.
– Vicky Janowski