July Spotlight
Area newsmakers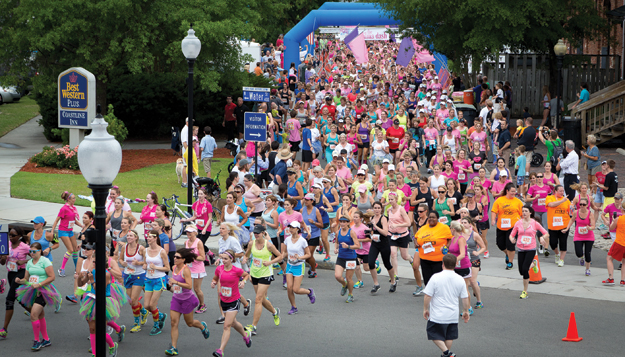 A Record WILMA Dash
The 6th annual WILMA Dash, an all-women 5K run/walk, was held on May 29. This year's race was the largest to date with nearly 800 runners and walkers, according to organizers.
Both individuals and teams participated in the event.
Erin Hogston took home first place with a time of 19:19. Melissa Adams came in second with a time of 19:52, and Sarah Hallenbeck took third place with 20:36.
The Fit 4 Mom team was complete with thirty-five runners in the race, awarding them with the Largest Team Award. Will Run for Wine won the Most Spirited Team award.
Participants ended the night at WILMA Nights, a women's health fair after-party.
-Kaitlyn Russell
Junior League Receives State Volunteer Award
The Junior League of Wilmington (JLW) was one of twenty recipients awarded the Governor's Volunteer Service Award.
Angie Brewer, the group's president elect, says that the JLW has devoted more than 10,000 hours of volunteer service to local nonprofit organizations. Brewer and Mary Heidenreich accepted the award on behalf of the group from Gov. Pat McCrory.
"We tirelessly devote our efforts to the community through our meaningful involvement and hard work," Brewer says.
-Kaitlyn Russell
Cookbook to Update Childhood Favorites
"Instead of an average chicken sandwich, I'll make dilled whole chicken salad sandwich with homemade pickles and bacon," says Fanny Slater, recent winner of Rachael Ray's Cookbook Competition.
After winning the competition in May, a competition the Wilmington chef says kept her thinking on her feet, Slater has been busy preparing for her new cookbook.
"About this time next year, the cookbook will come out for people to purchase," Slater says "I was calling it Tastes Like Childhood."
The cookbook's concept is tweaking familiar recipes and flavors from childhood.
"In the cookbook, there will be narrative throughout," Slater says. "It's meant to be very funny, touching, and draw emotions out of people to get them to remember (their childhood meals)."
-Samantha Santana
Wilsey Named Next Airport Director
Julie Wilsey will become ILM's next airport director on January 1, officials recently announced.
Wilsey takes over for Jon Rosborough, who is retiring. She joined Wilmington International Airport's staff fifteen years ago, spending most of that time as deputy director.
She has helped with more than $90 million worth of improvements. She says she is most proud of terminal renovations completed in 2004.
"We want to be the ambassador for community. We're the first and last thing they see so we want to make sure we do our area justice," Wilsey says.
The job of airport director will be a more public role for Wilsey, focusing on air service development and gaining new routes.
-Kaitlyn Russell