July Men's Room
Moving fast in the slow lane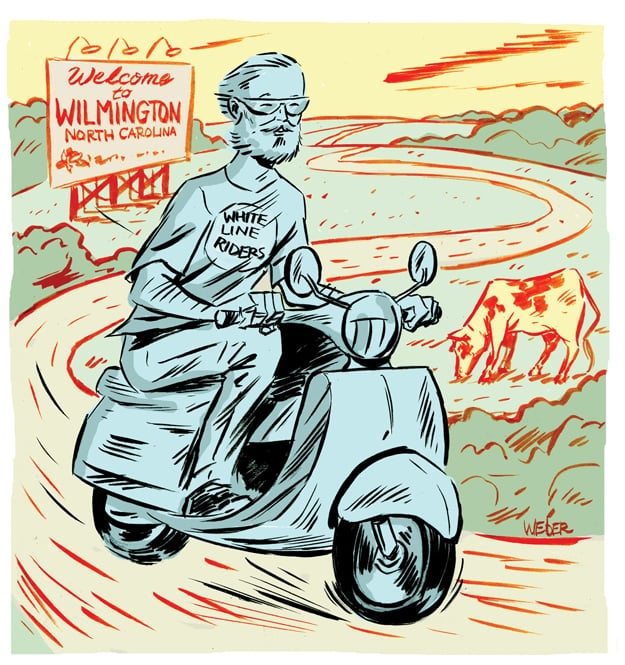 F

or one group of Wilmington moped riders, the low-powered motorbike is more than a method of transportation.
The quirky group of fifteen official members – more show up for the weekly rides – call themselves the White Line Riders, a reference to the white painted line that hugs the side of the road. "Because we're slow," says Suzi Drake, the group's captain.

The riders are members from various professions – builders, tattooists, writers, teachers, bartenders and lawyers to name a few. Together, they celebrate their passion for the two-wheeled vehicle at meetings and rallies.

The group hosted its third annual Southern Comfort Moped Rally at Wrightsville Beach in September with about 120 people and is getting ready for its next one this fall.

Every Sunday, they meet up at Satellite to hang out and head out for a ride, either around the city, to the beach, or out on new routes. Some travel to other rallies across the nation.

White Line Riders (
whitelineriders.com)
is a branch of the larger, nationwide moped enthusiast group Moped Army, made up of twenty-three groups and 578 members who together own 2,201 mopeds.
According to the organization's website, its members truly believe in the lifestyle of a moped rider, as well as the easy and economical benefits for travel. They also appreciate its aesthetic value, such as its simple ability to make friendly pit stops while on the road.

Moped Army members are known for their love of vintage mopeds. The organization website also features discussion forums about moped performance or repair and a place to buy or sell mopeds and parts.

Local rider Jeff Bridgers talks about how he got involved with mopeds and the White Line Riders.
Jeff Bridgers:
"My interest with mopeds began three years ago while hanging out near downtown Wilmington.

I noticed a group riding together from place to place. Then one of my friends appeared on a 70s Puch Pinto moped.

I showed my interest and was invited to a group ride on a loaner moped. I enjoyed the small company of guys and girls who invited me in.

That seemed to be my first steps into the White Line Riders.

I knew I needed a moped as my next step, so I made a road trip with a small group from the White Line riders to an Atlanta moped rally that was put together by an Atlanta club called the Swoop Jockeys.

There, I bought my first moped – an 80s Vespa Bravo.

After several crazy rallies all over the States and contributing to our local rally, I was eventually given my stripes into the moped club.

I was now part of a nationwide subculture known as Moped Army that celebrates vintage mopeds.

Ever since then, I have bought, hacked, and rebuilt mopeds for the fun of it."

Jeff Bridgers owns the local blacksmith shop Black Heat Forge, which helps him with fabricating parts for his moped.