January Spotlight
Area women making news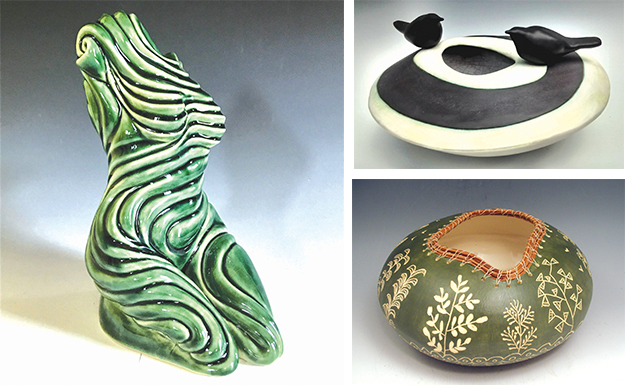 The Arts Council of Wilmington & New Hanover County recently announced grants to help local artists with their projects.
The competitive grants went to a dozen artists who applied from the four-county area for a total of more than $11,500.
Here are the female artists who received grants and their projects.
JULIA JENSEN to help rebuild of an oxygen concentrator used in lampwork/beadmaking; SARAH JONES to frame portraits in Celebrating Connections with People of Color exhibition; KIRSTIN O'MALLEY to purchase of a kiln; writer DANA SACHS to travel to Greece for research for A Drop in the Sea: Refugees on the Threshold of Europe; JULIANNE SCOTT to attend a sculpture workshop; SHEENA VAUGHT for a computer for filmmaking software; PEGGY VINEYARD to attend an abstract painting immersion workshop; MELANIE WALTER for purchase of an additional building to house ceramic kilns; SARA WESTERMARK for materials to create an enameled torso of scale armor; and MELISSA WILGIS for making photograms.
Arts Friendly Group Names Initial Board
A board has formed for ARTS FRIENDLY FOUNDATION, a local group started last summer to support the operations of arts nonprofits.
Newly elected board officers are CRAIG STINSON, director of Arts Friendly (president); TERRY ESPY, owner of MoMentum Companies (treasurer); and DAVID STARBUCK, a full-time artist and former senior semiconductor sales executive (secretary).
"With the Arts Friendly Foundation, we are taking the current arts funding template and turning it on its head," Stinson says. "We are prequalifying arts nonprofits for operational funds that they can use to further their missions of quality arts programming."
Recipients of Arts Friendly Foundation funds raised his year were DREAMS Center for Arts Education, Opera Wilmington, Thalian Association Community Theatre, Wilmington Art Association, and the Wilmington Jewish Film Festival.
"I think operational support is vital," Espy says. "By offering an opportunity for businesses and individuals to get involved with the foundation, the arts nonprofits can project for a year what type of impact they can make in the arts community."
Marshall Named Dosher Vice Chair
SHERRI MARSHALL was elected vice chair of the DOSHER MEMORIAL HOSPITAL BOARD OF TRUSTEES for this year.
Marshall has served on the Dosher board since 2007 and was board chair for the past seven years.
The hospital trustees serve on the board for six-year terms and serve without compensation, officials say.
Residents of the Smithville Township in Brunswick County vote for the board members of the hospital, which is a twenty-five bed, community hospital in Southport.
Marshall, who owns Oak Island Accommodations, became involved with the hospital as a local resident. While becoming more involved, she served as a member of the hospital's strategic planning committee.
Also in the recent board announcement, retired orthopedic surgeon SCOTT STARKS was named chairman, after serving as secretary and as a board member since 1998. Former Southport Mayor ROBERT HOWARD, who joined the board in 2017, was named secretary.
Women's Fund of NC Awards Area Grants
The Women's Fund of North Carolina, held by the North Carolina Community Foundation, has awarded $16,000 in grants to organizations across the state, including to those in the Cape Fear region.
Local groups that receive funds were:
• DOMESTIC VIOLENCE SHELTER AND SERVICES INC., which received $1,500 for emergency assistance for victims of domestic violence; and
• YWCA LOWER CAPE FEAR, which received $1,500 for its New Choices Economic Empowerment.
The YWCA's New Choices Economic Empowerment program, headed up by coordinator ACQUINETTA BEATTY (left), was formed in 1985 and supports area women "who are taking steps toward financial independence and self-sufficiency," according to the organization. "Participants include domestic violence survivors, recently divorced women and mothers, and single parents re-entering the workforce."
The Women's Fund of North Carolina is a permanent endowment "dedicated to improving the quality of lives of women and children, encourage philanthropic giving among women, and to assign a higher priority to issues and concerns of women and their families," officials say.
"We are so pleased to support important programming throughout North Carolina that helps to improve the lives of women and children," says LESLIE ANN JACKSON, director of grants and scholarships. "We are seeing a lot of good work."
Want more WILMA? Sign up for our WILMA Weekly email and announcements at WILMAOnTheWeb.com.