January Spotlight
Area women making news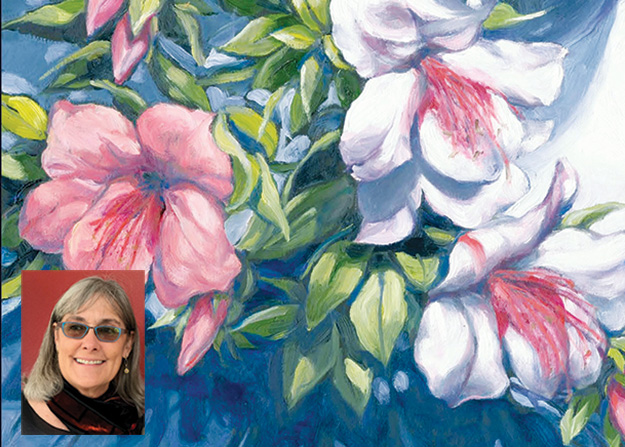 Behind this Year's Azalea Festival Print
VIRGINIA WRIGHT-FRIERSON is the artist behind the North Carolina Azalea Festival's official artwork this year.
The festival commissions original artwork each year for the event, which takes place April 11-15.
"Nothing is more typical of Wilmington than our azaleas, thriving and abundant despite our changing climate," Wright-Frierson says about her piece, which she painted with oils on paper for this year's poster.
Festival officials say they chose Wright-Frierson as this year's artist because of her connection to the area.
"When I started researching and asking people in the arts world who should be our artist, Virginia's name kept coming up," says Festival President Justin Wolfe. "She has done amazing works of art for our community, so it seemed a natural fit to ask her to create something for the Azalea Festival as well."
-Vicky Janowski
HWF Hires New Executive Director
Historic Wilmington Foundation has a new executive director.
Beth Rutledge, who has a twenty-year marketing and copywriting background, assumed the HWF leadership role in December. She replaced George Edwards, who announced his retirement earlier last year after leading the historic preservation organization since 2004.
Rutledge, who was selected after a nationwide search, most recently worked on program development at the nonprofit Preservation Alliance of Minnesota, launching its education program and Old Home Certified, a regional Realtor designation.
Since moving to the Wilmington area nearly two years ago, she served a member of the HWF Board of Trustees, chaired HWF's History's Future committee, and volunteered at the group's Legacy Architectural Salvage facility.
"Beth is a long-time preservationist, with both an understanding of HWF's legacy as well as fresh ideas for the future of the organization," says Walker Abney, president of the HWF Board of Trustees.
-Cece Nunn​
Evers Admitted to U.S. Supreme Court Bar
PAMELA EVERS, an associate professor of business law at University of North Carolina Wilmington, was admitted to the U.S. Supreme Court Bar, allowing her to practice before the high court.
"I have wanted to do this for a long time," Evers says. "Admission to the U.S. Supreme Court was important to me because it is the highest court in the land, and now, not only can I argue cases pro bono before the Supreme Court, I may be seated within the courtroom and hear Supreme Court arguments."
Evers has taught legal environment of business, entertainment law, international business, and the business of film at UNCW since 2001. She is a member of the State Bar of Texas and the District of Columbia Bar.
Evers earned her law degree from Southern Methodist University in Dallas, an MBA from Emory University in Atlanta, and
a master's of law degree in environmental law from Lewis & Clark College in Portland, Oregon.
She also attended The Hague Academy of Public International Law at The Hague in the Netherlands.
-Vicky Janowski
Local Women Named to State Boards
Two Wilmington women recently were appointed to state boards, according to an announcement from Gov. Roy Cooper.
Cooper appointed KATHERINE WOODBURY as an at-large member to the North Carolina Council for Women.
Woodbury worked for Goldman Sachs for eight years as a currency options and emerging markets interest rates derivatives trader. She also previously served as COO and CFO of Kipp Memphis Collegiate Schools in Memphis, Tennessee.
The council, which has existed in one form or another since 1963, advises the governor, legislature, and state departments on issues impacting women in North Carolina.
The governor also appointed KIM BANKSTON, representing private industry, on the North Carolina Board of Science, Technology, and Innovation.
Bankston is executive general manager for human resources at GE Hitachi Nuclear and serves on the Wilmington Chamber of Commerce's board.
Cooper also announced several appointments to the USS North Carolina Battleship Commission including NINA HILL, an active community volunteer; WILMA DANIELS (above), owner of William Hooper Apartments and chair of the UNCW Board of Trustees; LAURA PADGETT, chair of the Mayor's Task Force on Rail Realignment; DEIRDRE MCGLONE-WEBB, branch manager for South State Bank; and District Court Judge SANDRA RAY.
-Vicky Janowski
​