January Spotlight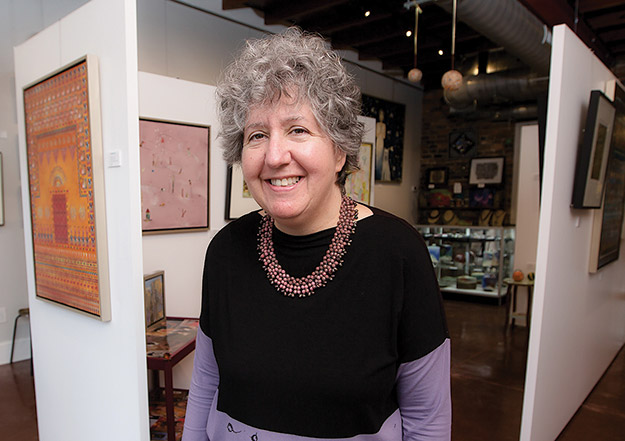 Meet the newest Gallery Girls
Several women have set up shop or taken over ownership of downtown art galleries recently.
AMY GRANT, owner of ART IN BLOOM, 210 Princess Street, held a grand opening in early October. The building is newly renovated from what used to be a stable built by the Quinlivan family in 1910. "When I bought the land, I had no clue what would be there," says Grant, who kept the stable theme throughout the gallery by incorporating shadowboxes that display parts of the original building.
CRESCENT MOON owner BUFFY FRANK bought the 24 North Front Street location in the fall.
The art gallery, which was previously owned by Joan and Mike Loch, continues to offer pieces made in the U.S.
And NEW ELEMENTS GALLERY owner and jewelry designer MIRIAM OEHRLEIN, bought the shop at 201 Princess Street with her husband last year after the previous owner retired. New Elements rotates through artists each month incorporating paintings, sculpture, jewelry, and glass.
– Dianna Dames
UNCW appoints Miller as new CIO
University of North Carolina Wilmington tapped SHARYNE MILLER as the school's new associate vice chancellor for information technology services/chief information officer.
She is scheduled to start January 4.
Miller has held administrative posts at Hertz Corporation, American Home Products, and Orange County Community College. In 2013, she became the executive director of information technology at Bergen Community College in New Jersey.
In her position, she will "oversee the central office of Information Technology Services (ITS), providing leadership over technology services that support academic research, classroom activities, distance education, application support and development, infrastructure and information security," according to a news release.
– Vicky Janowski
Local attorney becomes ACTEC fellow
Wilmington attorney JILL PETERS was elected a fellow of the American College of Trust and Estate Counsel.
Peters, a member of the trusts and estates team at Smith Moore Leatherwood's Wilmington office, is one of fifty-nine fellows from North Carolina, of which only fourteen are women.
"I am honored to be selected as a Fellow by the prestigious American College of Trust and Estate Counsel and look forward to the opportunity to serve the organization," she says.
The American College of Trust and Estate Counsel is a professional organization made up of about 2,600 lawyers. To join, they are nominated by other fellows after meeting criteria for membership and are reviewed by state and national selection committees before being considered for inclusion by the group's regents.
They are chosen on the basis of experience, professional reputation, and ability in the areas of trusts and estates, officials say. Contributions to the fields through lecturing, writing, teaching, and bar activities also are considered.
– Vicky Janowski
NEA Gives Area Art Grants
Two Wilmington groups recently received grants from the National Endowment for the Arts.
The CUCALORUS FILM FESTIVAL and University of North Carolina Wilmington's ECOTONE publication were among the sixteen nonprofit organizations in North Carolina awarded a total of $320,000 from the NEA in December.
Cucalorus will receive $25,000 to support the twenty-second festival later this year.
And $10,000 will go to the journal Ecotone, a semiannual literary magazine.
"As Ecotone begins its eleventh year in print, we're incredibly thankful for the support of the NEA," Editor Anna Lena Phillips Bell says. "This award means we can offer increased payment rates to our 2016 contributors. And it will help us bring the magazine to conferences and festivals, where I'm excited to share our just-released Sound Issue."
That issue includes its first-ever audio sampler and several highlights about North Carolina.
– Vicky Janowski