January Spotlight
Area newsmakers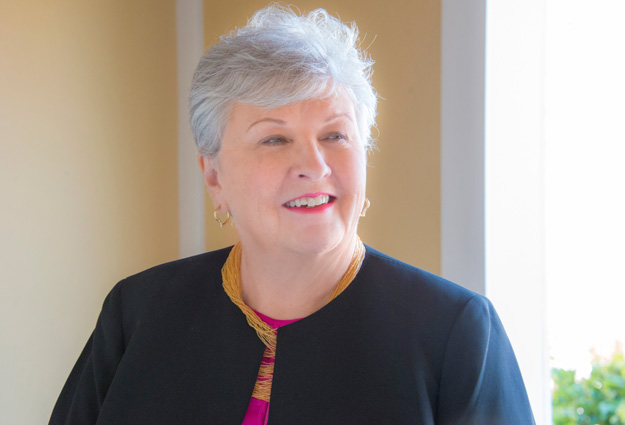 Garrett Joins State Housing Board
PATRICIA GARRETT, a Pender County resident, recently was appointed to the North Carolina Housing Finance Agency board of directors by Gov. Pat McCrory.
Garrett is the former president of the Charlotte-Mecklenburg Housing Partnership, according to a news release from the governor's office. She retired from that agency in 2003 after twenty-three years.
Her term length on the thirteen-member state board is four years. The board "defines policies for affordable housing programs operated by the agency," the release states. "It provides both financing and technical assistance to sponsors of renter- and owner-occupied housing, among other duties."
– Jenny Callison
Chamber Names Board Members
The Greater Wilmington Chamber of Commerce recently announced its new board members for 2015.
They include MICHELE HOLBROOK, manager of Corning's Wilmington plant; FAISON SUTTON, attorney with Murchison, Taylor & Gibson; and KIM AVERY (left), director of customer service in Wilmington for Verizon Wireless.
Ted Shipley, a lawyer with Smith Moore Leatherwood, also became a new chamber board member. Chris Boney, principal and vice president for architecture firm LS3P & Associates, will be board chairman.
-Vicky Janowski
Area Lawyers Win Women of Justice Awards
Two local litigators were recently recognized in the North Carolina Lawyers Weekly's 2014 Women of Justice awards.
JENNIFER SCOTT (left), Shipman & Wright, and KATY PARKER, Tin Fulton Walker & Owen, were honored.
The awards went to thirty female legal professionals, judges, and law school professors nominated from across the state.
"Having overcome some adversity, both personally and professionally, I am very humbled to have received a nomination and then to have been selected for this award," Scott says.
Before joining Shipman & Wright, Scott worked in-house with First Bank and served as general counsel and executive vice president there. Parker has served on the boards for North Carolina Advocates for Justice and North Carolina Prisoner Legal Service.
-Vicky Janowski
Pender Memorial Nurse Assistant Honored
HERMETTA JUDGE, with Pender Memorial Hospital, was named as one of the "Fabulous 50" top skilled nursing facility staff in the state.
The North Carolina Health Care Facilities Association hands out the Fabulous 50 award, which was started in 2001.
"Hermetta was nominated by her director for demonstrating excellent care and compassion, developed over more than forty years working in long-term care," according to an announcement.
She also frequently mentors new orientees, who "also appreciate Hermetta's teamwork and commitment," the announcement states.
"She inspires people with her smile and generosity," it states. "She has a strong work ethic and always wants to do the right thing."
-Vicky Janowski