January Spotlight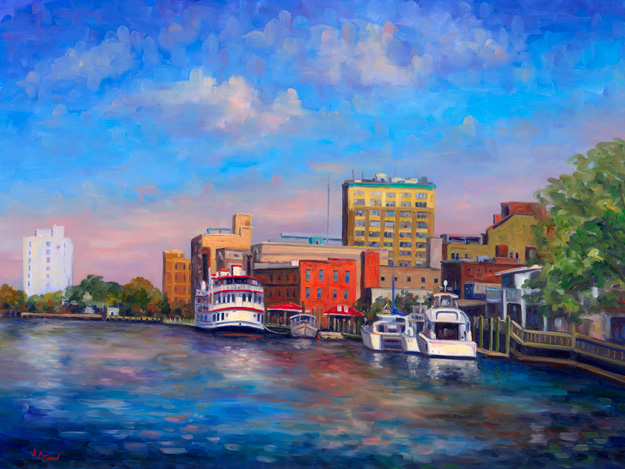 Parade of Homes Seeks Art Submissions
By Karyn Espinal
"Still Living the American Dream" is the theme of Wilmington-Cape Fear Home Builders Association's (WCFHBA) 2014 PARADE OF HOMES ART COMPETITION.
The association will feature the winning piece on the cover of its Plan Book, which has 5,000 copies distributed. It also will be shown on posters, media, and print advertising.
"We are grateful to have such a large pool of talent in this area and look forward to seeing what our local artists come up with this year," says Naomi Wright, WCFHBA's director of programs and special events.
The deadline for entries is January 31.
For more information and entry forms, contact Wright at 799-2611 or Naomi@wilmhba.com.
Documentary Features Local Girls Scouts
By Karyn Espinal
GIRL SCOUTS from troops in New Hanover County are included in the short documentary Building a Better Wilmington: Giving and Volunteering in the Port City.
The film, which was directed, produced, and filmed by UNCW students, premiered at the Cucalorus Film Festival in November and will be screened again January 29 at UNCW's Lumina Theater. A panel discussion will follow the free showing, which starts at 7 p.m.
Filmmakers interviewed a variety of people in the community, including the six Girl Scouts, about volunteerism.
Visiting String Quartet Performs This Month
By Karyn Espinal
The CAVANI STRING QUARTET makes an appearance in Wilmington this month.
The group will perform Collage: Music and Poetry on January 26 alongside poet Mwatabu Okantah and pianist Barbara McKenzie as part of Chamber Music Wilmington's concert series.
The Cavani String Quartet is an award-winning, all-female string quartet based in Cleveland.
It formed in 1984 and was appointed quartet-in-residence at the Cleveland Institute of Music in 1988.
Collage, described as a union of music and poetry, was first created to bring classical music and contemporary poetry to Cleveland-area high school students and has gained ground ever since.
The upcoming performance will be at UNCW's Beckwith Recital Hall.
Haynes Named Mayor Pro Tem
By Jenny Callison, J. Elias O'Neal
The Wilmington City Council recently gained a female officer.
Council members in December unanimously elected MARGARET HAYNES to succeed Earl Sheridan as mayor pro tem. Although the role is a largely ceremonial one, the selection of a woman is important, Haynes says.
She notes that while women are not a minority of the population, they are often underrepresented in government.
"I am very honored to follow in the footsteps of other women such as Hannah Block, Katherine Moore, and our own Laura Padgett (the council's other female member)," Haynes said after her selection.
Haynes was appointed to the city council in 2008 to fill out a remaining term. She ran for the seat in 2009 and lost but ran again in 2011 and secured a four-year term.