January Spotlight
Spotlights on Wilmington women making news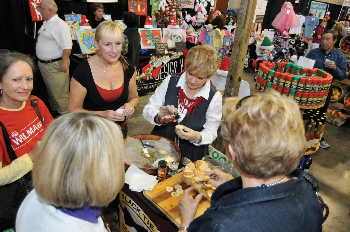 WILMA readers fill expo
For the second year, the WILMA EXPO drew a crowd.
Held in the Wilmington Convention Center on December 1, nearly more than 3,500 people attended the daylong event – nearly 500 more than the inaugural 2011 expo.
Vendors provided demonstrations, offered samples and information, held prize drawings, and more. A separate holiday shopping annex included local businesses selling items such as handmade jewelry, new and vintage clothing, and crafts.
"We had an incredible variety of vendors this year," says WILMA events manager Suesan Sullivan. "We had a lot of positive feedback from the shoppers."
– Tara Slagle
Mobile fashion
Two local fashionistas are hitting the Wilmington roads with their clothing truck.
Co-owners KATIE WHITAKER and LUCY CHERRY launched DRIFT MOBILE BOUTIQUE at the Modern Rock Fest in November.
Whitaker's interest in fashion sparked the idea of a mobile boutique inspired by the food truck movement. Whitaker met Cherry – owner of Lula Balou – and they decided to open Drift Mobile (www.driftboutique.org).
Their goal is to travel to many of the same areas as other local food trucks.
"We want to support as many local businesses as we can," says Whitaker.
– Tara Slagle
Guardian ad Litem volunteers receive honor
Note: This version corrects the group name where Neblett and Dickey volunteered.
JUDY NEBLETT (left) and KAYE DICKEY were recently
recognized for their longtime service to the GUARDIAN AD LITEM program for the 5th Judicial District, volunteering for the court program in New Hanover and Pender counties for two decades.
Working with the group, they investigate cases of abused and neglected children that have been filed by the Department of Social Services. After looking into a case, they provide recommendations to the court system.
"The Guardian ad Litem is the voice of the child in their court case," says Neblett. "My life has been enriched by the opportunity of being a part of this program."
"It takes a lot of effort and time, so it's exceptional to see people who do this for
so long," says Sarah Reamer, board member of the Cape Fear Guardian ad Litem Association, a nonprofit that raises money for activities for children in the program.
– Tara Slagle
Beach wheelchairs for Carolina Beach
Carolina Beach will soon have more beach wheelchairs thanks to the fundraising efforts of the ISLAND WOMEN group.
Through a "Flamingo Flocking," the 501(c)3 group raised $16,000 over eight weeks for the wheelchairs that are specially designed to be able to be used on the sand. Recently, a prototype chair was delivered to town officials to check out. Arrangements are being made for ten chairs to be ordered and should be ready for delivery in the spring.
"Maybe in the future, we can look at roll-out mats or wheelchairs that can go in the water," says LACY FORD, a member of Island Women. "There's no limit in what we can do to make community services accessible to everyone."
– Teresa McLamb