Jammin' Jazz
with local legend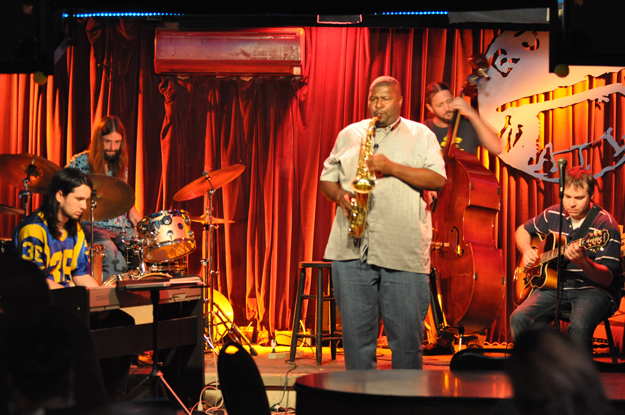 When Wilmington jazz saxophonist Benny Hill walked into the Rusty Nail to set up for the Jazz Jam on Sunday night, conversations paused around the room while the regulars greeted him. A large man in a leather jacket, Hill got straight to work­—checking the sound, setting up a recording device. He passed by a table where some Rusty Nail regulars were gathered around crock pots, and one man said, "Benny, we've got food here. Lima beans. Oyster stew."
Hill, host of the Sunday night free Jazz Jam at the Rusty Nail, opened the evening playing some tunes with the house band. Hill was on saxophone, Ryan Woodall on bass, Chris Luther on guitar and Thomas Garner on drums. The band made their way through jazz classics by John Coltrane and others. They began "trading forwards," whereby each band member takes a turn playing his instrument as the lead while the others play back-up. Hill told me that this is akin to the old church tradition of call and response between a preacher and a congregation.
At one point when Hill was playing lead, he really laid into it on his sax, hands moving fast, dozens of notes in quick succession. Then, he said, "If anybody plays, just let me know if you want to come up, you're welcome to."
Before long, a man came up from the audience and traded places with Garner on drums. And, the Jam had begun. From then on out, musicians from around the room stepped up to take turns on stage.
I spoke to Hill while the band took a break. He said he's a native of Wilmington and a graduate of both New Hanover High School and UNCW, where he studied under saxophone professor Frank Bongiorno.
Hill started playing when he was 12. He got the idea from watching his father, a piano player, jam with a friend on saxophone. Hill asked for a sax for Christmas and started playing it everyday after school. Was he good right away?
"I'm one of those people that practice a lot," he said.
Hill has been hosting the Jazz Jam at the Rusty Nail for the past three years.
"The Jam is fun because you never know who's coming," he said. Anyone can show up from local musicians to folks from out-of-town. As we talked, more musicians came in carrying black instrument cases.
The bar supports a close-knit music scene, as well as one of the most racially and generationally diverse social scenes in Wilmington. Young musicians come in with their parents to get in on the Jam and older folks hang out and share food on Sundays.
"The people here have such a history," said Karen, the bartender on duty, who has worked at the Rusty Nail for more than four years. She told me a little about the bar's history. She said it began as an appliance repair shop run by a married couple, but when the wife started serving lunch and beer to customers, Beatty's Tavern was born. There is talk that the bar was a gay tearoom for part of the interim decades and some regulars assert that it's the oldest bar in continuous operation in Wilmington.
Things got lively by the time Hill and the house band took the stage for the second set. The place buzzed with patrons, musicians and a rising feeling that something could happen—one of the musicians could really go off on their instrument, someone really great could take the stage, the possibilities seemed endless as the crowd swelled.
The Rusty Nail, located at 1310 S. 5th Street, is home to Benny Hills' Sunday night Jazz Jam from 8 to 11:30 p.m.