It Takes A Village
Coaching teen parents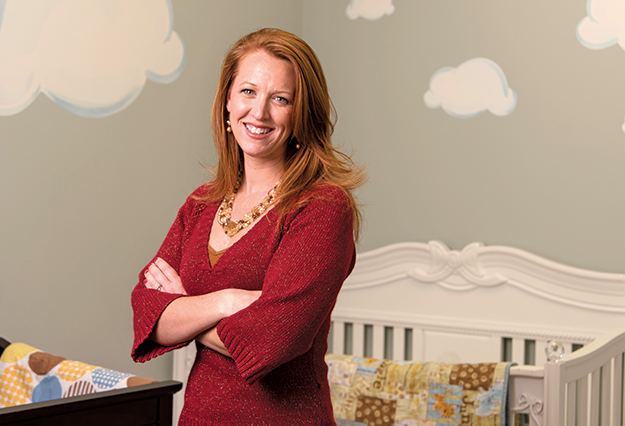 Lots of young women have dreams. They want to finish high school and go to college, travel the world, or work with disadvantaged people. They want to explore and learn and grow into adults. For some of those teens, however, those dreams can become sidetracked if they become pregnant.
The all-volunteer staff of SAMARA'S VILLAGE in Brunswick County wants to make sure they're not abandoned by providing an environment where teen mothers and mothers-to-be can share their feelings, learn about second pregnancy prevention, interact with others in similar positions, receive emotional support, and benefit from educational programs that help with social, emotional, educational, and life-skills issues.
Samara's Village also offers programs to young fathers, often left out of the teen parent paradigm.
KATHRINE WHITE, executive director of Samara's Village located in the same building as the Old Brunswick General Store in Boiling Spring Lakes gave a tour of the organization's new space several days before a ceremony in December that marked its one-year anniversary of receiving nonprofit status.
With boxes of furniture to be assembled and donated children's toys throughout the space, the calming new colors of the recently painted walls begin to shape the physical aspect of the vision. There's space for educational endeavors, such as completing homework, while the mother's child plays or sleeps in the nearby nursery.
These young mothers, White says, have the same concerns as other mothers: They're reluctant to leave their young child for a long period of time with people they don't know well. Many of them qualify for subsidies for child care, but they'd rather be closer to their new baby. The space also allows these young mothers and opportunity to get out of their house, where they may feel isolated and depressed.
White, who received her undergraduate degree in organizational management, served with the U.S. Navy from 2004 to 2010 as a nuclear trained administrator, training specialist, supervisor, personnel developer, and facilities manager.
She says she had a pretty good life when she moved to the area three years ago with her husband and two children from Charleston, South Carolina, where her husband was based in the Navy.
When her kids were at child care and school, she'd go on walks with her friend and Samara's Village co-founder, Jean-Marie Lee, a licensed clinical social worker who also volunteers at the organization (other founders of the all-volunteer organization are Donna Robey-Sullivan and Jaime Miers). They would walk, talk, pray, and discuss their own possible plans and the things that called to them.
Time passed and conversations ensued. One day, though, White's eleven-year-old daughter had a sleepover. White looked around and thought of the numbers on teen pregnancy. And it dawned on her that from a statistical perspective, several could live with the life changes and huge adult decisions pregnancy might bring them in the coming eight or nine years. It was sobering.
"I couldn't even fathom it," she says, deciding to create a village that would set girls up to be as successful as possible.
In the past year of operation, before Samara's Village had a space of its own, Brunswick Community College allowed it to use their facility at no cost, which allowed it to hold childbirth, infant care, and breastfeeding sessions, led by volunteer professionals such as doulas.
The current space was donated until the first of the year by the owners of the store owners, who also own the space, who now offer it at a reduced rental rate to the group.
Referrals to the program come from Brunswick County Social Services, county school districts, Coastal Horizons Center, and community members. The program currently serves seven mothers. With the lowered cost of their office coupled with private donations and small grants that are helping to secure a foothold on self-sustenance, organizers plan to soon be able to offer programs for teen fathers, as well. And they hope to serve more teen mothers.
Though North Carolina's birth rate for teens has dropped 51 percent in the past eight years, reflecting a decline nationally, the state still has a slightly higher rate than nationally, according to a new report from the Centers for Disease Control and Prevention.
And Brunswick County has the highest teen pregnancy rate in the tri-county area, based on state health statistics.
With its presence in Brunswick County, Samara's Village provides one of the few programs in the region to help teen moms and dads. And Samara's Village wants to make sure they know they can still reach for their dreams.
To view more of photographer Mike Cline's work, go to www.michaelclinephoto.com.