Introducing WILMA's Women to Watch Leadership Initiative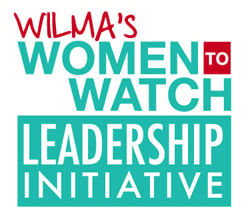 Dear Readers,
For more than a decade WILMA magazine has been an outlet to spotlight inspirational and successful women in the Wilmington area from all walks of life – from business to health to arts.
The annual Women to Watch awards started a few years ago to highlight up-and-coming women in the community. And now this month, we're launching an ambitious program that captures the spirit of both the magazine and the annual awards – WILMA's Women to Watch leadership program.
The mission: Help develop more women leaders in Wilmington-area businesses, nonprofits, government bodies, and boards of directors. We are partnering with existing programs and groups in the community in order to connect women to new opportunities and offer ways to help them reach their leadership goals.
Here are some of the projects in the works:
Increased coverage of leadership topics in the magazine and online – profiling local women leaders, featuring up-and-coming women in the community, delving into opportunities and obstacles to women assuming more leadership roles, and highlighting relevant events and initiatives.
Three large events annually to bring together women leaders and up-and-coming women to have fun, connect, and learn.
Smaller monthly and quarterly gatherings to help women connect in smaller groups tied to a particular industry or interest.
A WILMA Leadership Institute that selects eight women annually to go through more intensive leadership training, have a personal board of directors, and receive greater exposure to experienced executives.
A mentorship program that matches up-and-coming women in the community with women and men mentors to assist with their leadership development.
A training program that prepares women to serve on local nonprofit, business, and government boards.
A WILMA Network where women can find each other online and through the magazine.
To find out more about the program and ways to get involved, click here. And let us know what you think by emailing W2W@WILMAOnTheWeb.com.
– Vicky Janowski, WILMA co-editor, and Maggi Apel, events director
Co-leaders of the Women to Watch leadership program
Welcome to our new Women to Watch logo.
When you see it in the magazine or online, it means this is a woman on the rise to know, an experienced leader to learn from, or a local program worth checking out.
WOMEN TO WATCH ADVISORY BOARD MEMBERS
Gina Andrews (PNC Bank), private client group relationship manager
Kim Bankston (GE Hitachi), GM, human resources
Dana Cook (Julia's Florist), owner
Paula Corbett (EastCoast Research), president
Christine Dingivan (PPD), chief medical officer
Donna Esteves (Corning), supply chain manager
Lori Feezor (NHRMC), vice president of legal affairs and general counsel
Lauren Henderson (CastleBranch Corp), chief financial officer
Lindsey Neumann (U.S. Coast Guard), operations specialist and 2013 Women to Watch award winner in the Rising Star category
Katherine Perduta (Vertex Rail), vice president of legal affairs and human resources
Pamela Webster (Vertex Rail), director of human resources