Into the Wild
Local women blog about their bucket-list adventures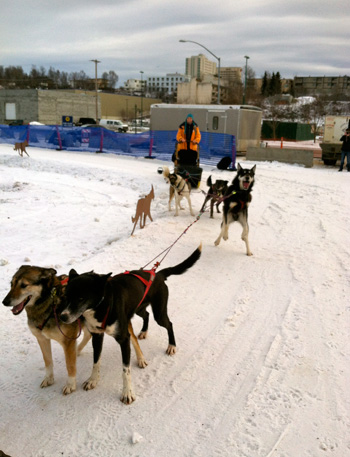 Two women from New Hanover County embarked on separate journeys in March with their adventurous sights set on scratching off bucket list dreams. While both voyages began at the same time, the two women face very different challenges and climates in their quests.
SANDI ADAMS is volunteering for the 2015 Iditarod dog sled race in Alaska that started March 7. Much farther south, KELLIE ENGLISH BEMELMANS currently is raising money to build homes for ill, injured, and wounded soldiers on a solo backpack hike 800 miles along the Arizona National Scenic Trail.
The women are blogging about their treks, updating and educating the Cape Fear community and beyond.
When Adams visited Alaska for the first time with her family in 2002, she got a chance to hold some puppies that belonged to Jeff King, a four-time Iditarod champion who is often recognized as the "winningest musher in the world." After that encounter, Adams was hooked. Adams watched the treacherous, 1,000-mile Alaskan dog sled race online or on TV from her Wilmington home year after year. Finally, she decided she wanted to get involved.
"The race is really carried out by community members and volunteers from all over to make it happen," explains Adams.
Adams, who turns fifty-five during this year's Iditarod race, decided lending a hand would be the ideal way to celebrate her birthday. During the race, which takes about ten days (or more for some competitors) for mushers and their dog teams to complete, Adams assists with dog handling, updates statistics from the checkpoints, and helps at the pre- and post-race banquets.
As the owner of Wilmington-based sand sculpting company SandiCastles, the experience will be quite the change in scenery, but given any spare time, Adams plans on carving some snow castles.
"This is quite a departure for those of us like me who play on the beach and in the sand all the time teaching people how to carve sand," Adams said. "I want to go up and do this – hopefully in some snow."
Meanwhile, under the warm sun of the Southwest, Bemelmans also wants to celebrate a big milestone by accomplishing a personal feat. Marking her fiftieth birthday this year, the avid runner embarked on a three-month hike in early March.
A few thousand miles from her home in Carolina Beach, Bemelmans began her journey at the Mexican border of Arizona and will wind through the Grand Canyon State to Utah.
Even with six months of serious preparation and training under her belt, Bemelmans recognizes she will face major challenges along the way. When the trek gets tough, Bemelmans plans to think of her supportive family and community and, most importantly, the cause she's walking for.
Her journey honors the strength and sacrifices of our troops.
"I'm walking just to say thank you to our veterans, our soldiers today, our soldiers yesterday, our soldiers tomorrow. Just to say, 'I know you're out there protecting our constitutional rights, you're risking your life,'" Bemelmans says. "Every step of my foot is saying, 'Thank you, and I honor you.'"
The source of Bemelmans' inspiration: her twenty-five-year-old son who joined the Army to make a difference. She hopes her hike will also make a difference by raising at least $5,000 for Homes for Our Troops, an organization that provides specialized housing to critically disabled veterans of Iraq and Afghanistan.
"Most of them are quadriplegic or paraplegic or have traumatic brain injuries. They can't work to pay for their homes. They have needs," Bemelmans said. "The organization takes soldiers in a very difficult position and gives them something they really need."
Bemelmans wants others to be able to track her adventure, participating vicariously. She blogs about her journey at HikeArizonaForOurTroops.blogspot.com as she stops in towns along her route to resupply with food, water, and other needs.
"I'm really new to social media, but I thought it would be an interesting way to get the word out because the more people that hear about (the hike), the more chance for donations and directly more money to the troops," Bemelmans says.
Adams is also blogging about her volunteering adventures at iditablog2015.blogspot.com. She expects those back home will be able to experience a bit of Alaska by reading about her journey. Adams also wants to raise awareness about Alaska's history and sled-dog culture.
"One thing is to just recognize, it's part of the American settlement experience, which is obviously really different from here in Wilmington, North Carolina," she says.