International Culinary Corner
A global trip around University Landing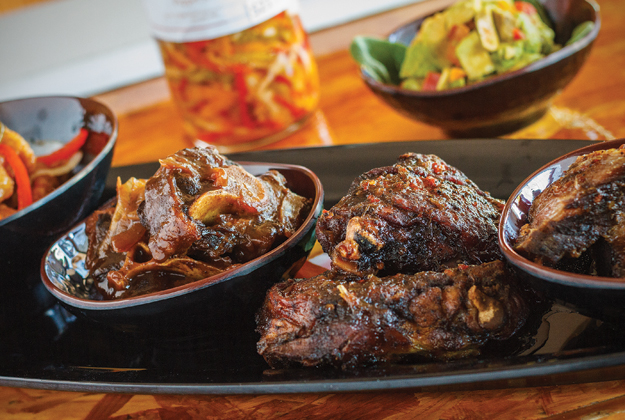 New York City has Little Italy, Washington, D.C., has Chinatown, and Wilmington has University Landing.
The plaza on South College Road has a handful of authentic eateries from around the world. In one short stroll around the shopping center, diners can pick from homemade sesame flatbread paired with Mongolian-style barbequed meats, spicy ceviche, lamb gyro, escovitch fish, sushi, or Shangri-La shrimp.
Jamaica's Comfort Zone is one of the international bites that has found its place in University Landing. The interior of the restaurant embraces the feeling of island life with a straw tiki hut topping the counter, Caribbean cookbooks stacked by the cash register, and a brightly colored Jamaican painting on the wall.
Owner Valerie Lingo is not a native of the country whose foods she masterfully prepares. She is from New Jersey, and her background is in business administration and health care. She visited Jamaica for the first time for her daughter Yolanda Blount-Wood's twenty-fifth birthday. Both Lingo and her daughter fell in love with the culture, and they continued to visit Jamaica a couple of times a year for ten years after that, each time becoming more influenced by the food.
Blount-Wood, who moved to Wilmington first, and Lingo decided to turn their enthusiasm into a restaurant that would to fill the void of Caribbean cuisine in Wilmington.
In order to do this successfully, Lingo knew she would need to learn to cook Jamaican dishes herself to ensure that the restaurant would have a consistent menu. The first Jamaican dish she tackled was oxtail.
"I had never used a pressure cooker in my life," she says.
She cooked the dish repeatedly, letting her daughter taste it and returning to the kitchen with notes to revamp the dish each time it wasn't quite right. Finally, she got it.
In November 2007, Jamaica's Comfort Zone was born as a family business, and Lingo moved to Wilmington to manage the restaurant. Lingo trains all of the cooks while her daughter works at the restaurant on weekends and manages catering, and Lingo's husband handles the finances from New Jersey.
"The challenge with family-owned restaurants is you have to have people who know all aspects of the job. You can't hire ten people at a time," Lingo says.
Lingo now has a menu she's satisfied with. Some of the recipes such as her mac and cheese are American "soul foods" with added spices typical of Jamaican dishes to give it a flare.
Lingo's prize recipe is her Scotch bonnet pepper relish sauce, used in her Escovitch Fish dish.
"(Our food) is for people who want the real stuff," Lingo says, adding that when people from the Caribbean try her food, they tell her, "You are Jamaican, and you just don't know it."
Besides Lingo's Caribbean fare, the area also offers everything from Mongolian to Greek to Korean dishes for diners looking to expand their tastes.
"There are different types of eateries here, and we all have our different personalities," Lingo says.
One of these personalities is JULIAN HERRERA, owner of THE GOLDEN CHICKEN, whose fervent passion for preparing food was instilled in him as a young boy in Peru.
Herrera recalls his eyes fixated on the TV, jotting down notes from a Peruvian cooking show. This was the start of his handwritten cookbook that he would consult for years to come. As the pages added up, so did his love for cooking. It became a part of him.
"When I came to America and left that cookbook behind, it was like being without arms," Herrera says.
But he was able to get his feet on the ground in Charlotte when he and his wife, Nora Linares, opened a Peruvian restaurant called Machu Picchu. Herrera's love for fishing and being on the water brought the couple to the Port City where they found their place among the other international foods in University Landing.
Herrera is satisfied to be part of the melting pot of foods in the plaza but also realizes it presents a challenge to stand out.

(Bibimbop from Wasabi Sushi)
"In Peru people eat foods like guinea pig and beef tripe," Herrera says, but he worried that these dishes would not appeal to the masses in a city with a small Peruvian population. With this in mind, Herrera decided he would focus on his specialty rotisserie-cooked chicken to bring people in the door. Once inside, foodies can also find many dishes native of Peru such as anticucho and ceviche.
Steps away from where diners are sampling Peruvian yuca fries, others are eating at Wasabi Sushi, a Japanese restaurant that also incorporates Korean dishes into its menu.
A loyal customer base is something that WASABI SUSHI owners CJ YOU and HYE PARK, originally from Korea, take pride in.
"Most of the people who come in are regular customers," Park says as she greets a couple at the door asking them if they'll have their usual tea and gyoza soup.
Park says their Korean dishes have become more popular with the craze of healthy eating. The Korean dish bibimbop – a rice and vegetable bowl with egg, hot chili sauce, and choice of meat, tofu, or mushroom – is one of the healthier dishes.
"It's very healthy, and it's popular in places like New York," Park says.
University Landing has established itself as Wilmington's very own international food hub (OK, maybe global nook is more like it). Lingo hopes the plaza will continue to make a name for itself as a go-to place for foreign flavors.
"This shopping center should be the international zone for Wilmington," she says. "It offers a good blend of different foods other than the normal fare that you see in town."
To view more of photographer James Stefiuk's work, go to www.carolinafoodphotography.com