Insider: Stuart Callari
Stage presence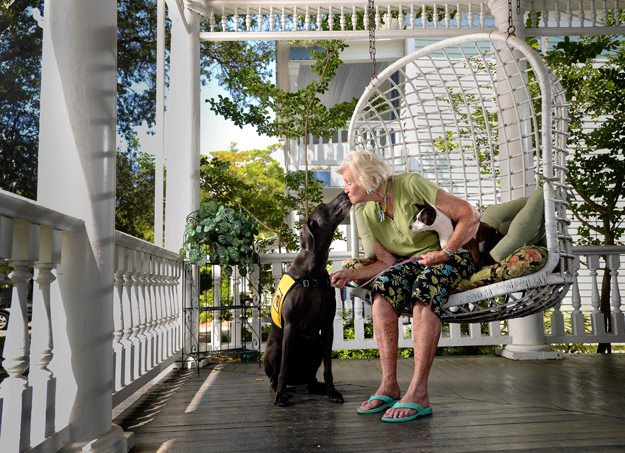 Lives at: Southport, permanently since 1980

Brought you here: This was my mother's and my grandparents' home. My sister Pat Pittenger and I were raised in Panama and Cuba. When we reached teenage years, our parents retired to Southport, and we both graduated from Southport High School. Classes were small, so everyone knew everyone. It made for such a close community of friendships that eventually most of my classmates have retired and come back "home."

Works as: I have had many jobs – worked for an airline, owned and ran a travel agency, had a woodworking shop, and now hand make dog clothes.

Favorite things to do in the area: My favorite thing to do is take my two dogs down to see the river every afternoon, the on to play at the dog park. My passion now is working with my therapy dog, Bella, a big blue Weimaraner. We trained through Carolina Canines, and provide comfort to those in nursing homes, hospitals, etc. She's also active in Paws for Literacy, going into schools for one-on-one with children afraid to read out loud.

Most recent local place you ate out at? Taylor's – always good food there!

What's missing from the area? I wish we had a true "performing theater" in town as well as an outdoor theater somewhere close but away from the city noise.

How did you get drawn into local theater? I co-founded the Little Theatre formally know as The Brunswick Players. I stayed on and loved to watch as children of the children I coached/directed became actors, too. Then when their children started coming along, well I felt 20+ years was time to step aside. We've had so many great shows, and as in all live theater our share of mishaps and disasters. But I love it all.

Best way to spend time on a front porch? The best and ONLY way to spend time on the front porch is with a cool drink, comfy rocking chair, and feet up on the banisters railing.

With all the history in Southport, any good ghost stories? The best ghost stories were the ones I heard from my grandmother and some of her friends about Theodosia Burr, strange events on Bald Head Island, and of course I grew up in the Bay Street house with Tony the Ghost! I never try to convince people that Tony Castelleta is a very real ghostly spirit that lives in the Bay Street house. If you've never had the experience of a visiting spirit you just can't understand. But Tony is very real to all my family and to many who have visited the Bay Street house. He's no poltergeist, just a kind spirit who has decided the house is his home.