Insider: Shawn O'Donnell
Wave rider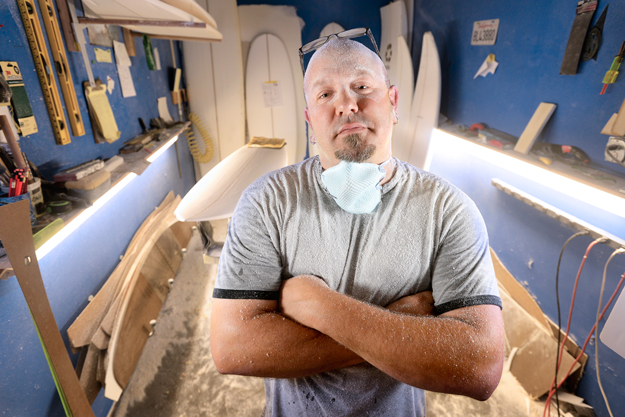 Lives at: Wilmington, since June of 1973

Brought you here: My mom and dad. I was born and raised in Wilmington. But I travel a lot, so it made me love this town more.

Works as: Surfboard shaper. We manufacture all our surfboards locally, but they're tested all over the world.
(Owns Wrightsville Glassing, SOD Surfboards, and Doctor Ding Surfboard Repair, and also president of the Wrightsville Beach Longboard Association.)

Favorite things to do in the area: Surfing is my life 24/7.

Most recent local place you ate at? King Neptune

What's missing from the area? K38 Baja Grill (when it was closed recently for renovations – it has since reopened). It the best place to eat, and Josh is the MAN.

Favorite place to surf in the area? Cannot tell you – have to kill you then.

Best memory while out on the water?
After my grandfather passed away.
I got the call at work, and all the guys at work told me to go home.
I said, 'No, my grandfather wouldn't what me to do my job half way.'
Glassing a surfboard, I broke down. Grey Eavey stepped in and finished glassing it for me. I got in my car and called my friend Mick Higgins. He told me to come to his house, then we paddled over to Masonboro.
It was chest-high glass. The sun was starting to go down, and then I knew it was all good. My grandfather was with God, and a peace came over me. I was surfing.
Favorite other beach town? Topsail – my dad would take me there as a kid to go camping.

Non-surfing related jobs you've had: Worked at Red Dogs (as a bouncer for the Wrightsville Beach bar) for over ten years, and it was fun – got to meet a lot of great people doing that job. Miss it sometimes. I would cut grass, paint houses, do whatever so I had gas in my car.

What brought you into the Wrightsville Beach Longboard Association? I got involved with the WBLA when I heard about Paco (Strickland) getting sick and made a new longboard for myself and was told about the meeting that night. I walked in and told the WBLA to sell it and give the money to Paco. And some of my friends' dads were there, told me to sit down, and talked to me about the WBLA and what it was all about – all about surfers helping surfers, and that is cool to me. Hell, I am a shortboarder from Carolina Beach, and now I am the WBLA president. The big thing about surfing is to have fun. I surf for me – and to meet girls … joking.