Insider: Maaike Brender à Brandis
Rollin'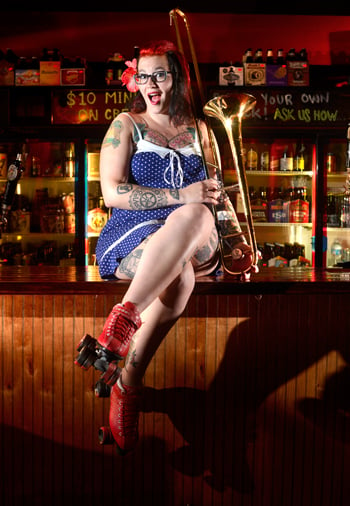 Lives in: I live in Carolina Place, wedged right in between downtown and Forest Hills.
Came here for: I was born in Wilmington but grew up in Canada. I came back in 2006 to be closer to my father and my brother. I ended up rejoining the band that I had helped form in 1998 and purchasing Cape Fear Wine & Beer.

Works as: I am the majority owner of Cape Fear Wine & Beer. This is the closest thing I have to a normal job. I also play trombone and sing in two local bands – The Madd Hatters and The Phantom Playboys. And though I am recovering from a leg injury, I am as involved in the local roller derby team, The Cape Fear Roller Girls (CFRG), as I can be. And at some point this season, I will start as a co-announcer alongside established Professor Lou Botomy, CFRG's main announcer.

Most recent local place you ate at? I am currently munching on bites of sushi from the new Sunny Sushi on North Front Street right next to Cape Fear Wine & Beer.

What's on your autobiographical mix tape? "Everybody Loves Somebody" – This is a classic tune, and my maternal grandfather, Irving Taylor, penned the lyrics.
"At Last" – A gorgeous love song. It has been rendered by so many artists, but I'm a sucker for the Judy Garland version. My maternal grandmother, who sang and danced alongside Ms. Garland, always adored her, and we discovered after their deaths they were distantly related!
"We'll Meet Again" – A dear friend and I listen to the New Orleans jazz radio station frequently, and there are so many versions that are played.
"When The Angels Sing" by Social Distortion. I was raised on so many different types of music thanks to my family's careers in the music industry. However, I can't deny my years of punk rock. This song is very powerful and has been a constant message of hope for myself and all of the band's followers.

Favorite non-alcoholic beverage? I find myself drinking significant quantities of hibiscus-based herbal teas year round, both hot and cold. Before I was in the beer industry, I managed a greenhouse in western Canada, where hibiscus plants had to be tenderly nurtured to survive. I find it to be such a cheerful flower. No wonder women wear it around their necks and in their hair.

How do you judge a good beer? "Good" is such a relative term. Hopheads crave the bitter stuff, but it doesn't do it for everyone. I believe all beer has room to be good despite my personal biases. It might not be my favorite style, but I can easily recognize a well-made, solid brew.