Insider: Gwenyfar Rohler
In print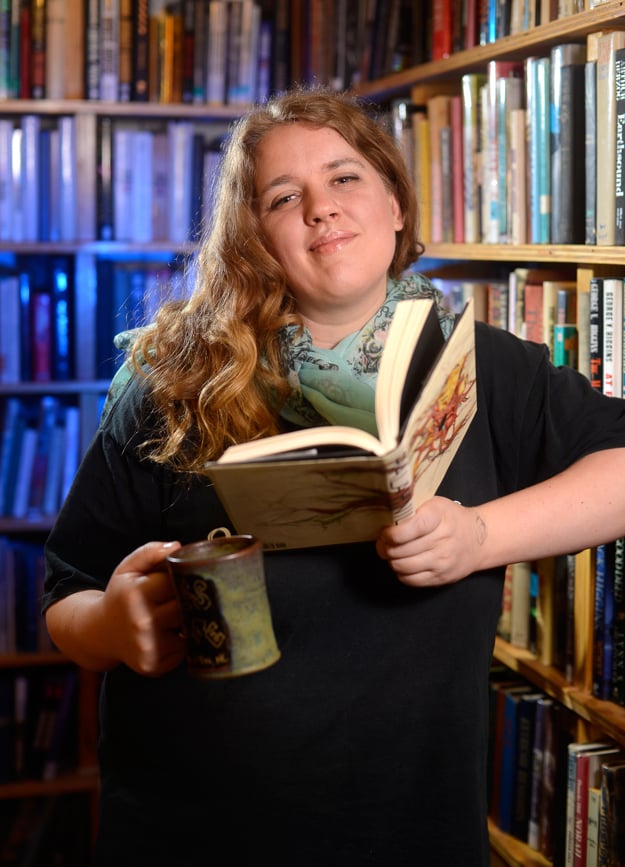 Lives: On the fringes of downtown. I was lucky enough to grow up downtown, so I had the experience as an adolescent of being able to ride a bicycle to real places like the library, post office, The Cotton Exchange, St. John's Museum, The Community Arts Center, Thalian Hall, etc. What a gift to have a teenaged life outside of the mall!

Came here for: My father was recruited by the just developing communication studies program at UNCW that grew into the communication studies department. Dr. Rohler retired this past year after thirty years of teaching. Both of my parents grew up landlocked and thought the beach would be warm and glamorous. Wilmington looked like an ideal place to raise a child and avoid snow.

Works as: Best job in Wilmington: word wrangler. Managing our family's independent bookstore! (Old Books on Front St.) Also writing for Encore, Salt, and WHQR. Whispered: Novel forthcoming, too.

Favorite spots in the area: The Scoop – a serious weakness for ice cream … serious. Oy vey. Nutt Street Comedy Room, Cinematique, the Pineapple-Shaped Lamps, Shakespeare on the Green. Do you know that there is a live stage show playing somewhere in this town fifty-two weeks a year? The amount of theater here is overwhelming!

Most recent local place you ate out at? We (Jock and myself) eat breakfast every morning at Folks Café on Twelve and Princess Street. It is as much to be connected with our neighbors as it is for the food and coffee.

What's missing from the area? A good Ethiopian restaurant.

What are you reading now? How long do we have? I read an average of a book a day and have several going at once: Night Watch by Terry Pratchett, The City is a Rising Tide by Rebecca Lee, Characters & Viewpoint by Orson Scott Card, Les Misérables by Victor Hugo, On Writing by Stephen King, Raleigh's Eden by Inglis Fletcher, and Under the Dome by Stephen King.

Worst thing you've ever written? My first book? That was pretty bad … learned a tremendous amount from it though.

Any Books you find yourself recommending on a regular basis? Haunted Wilmington by Brooks Preik. Good Omens by Neil Gaimanand Terry Pratchett – possibly the funniest book I have ever read. Everything Helen MacInnes wrote –everything! Her worst day is still light years beyond Clancy or Ludlum's best day. No I won't apologize for that statement.

What can the printed word do that the digital can't? Protect your privacy. I really believe that the inside of your head should be yours and yours alone. We are seeing more and more prosecutions that cite the accused's Internet browsing history as evidence against them. The printed word also creates a record. It is a lot easier to change hundreds of electronic files that say something you don't like than to do away with hundreds of hard copy books (not that it hasn't been tried mind you). Ray Bradbury's Coda to Fahrenheit 451 might be the best piece on that topic. Printed books are also real. You actually get to own something that can, in time, appreciate in value.