Insider: Chris Andrews
Hell on wheels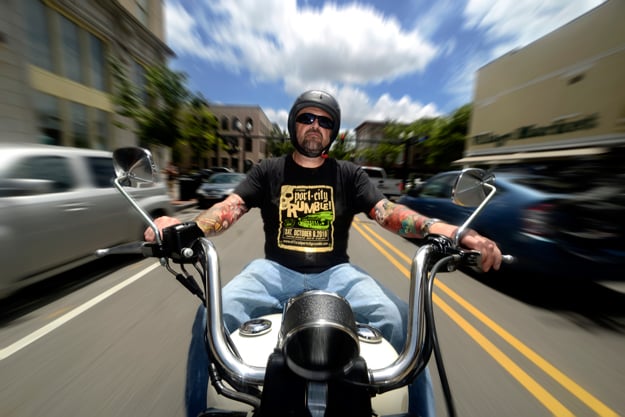 Lives at:
I live in sunny midtown Wilmington – Long Leaf area to be exact. I moved to Wilmington in March of 2004.
Works as: My "real" job is with the Front Street Brewery, where I'm the business and events manager. I also run Cool Wilmington Productions, which sets up and produces events in the downtown Wilmington area.

Came here for: I had always been an entrepreneur since the age of nineteen, planning and opening businesses, running them for a few years, and then selling them off. I usually owned two or three businesses at a time. I had gotten to the point – age – in my life where I was starting to think about the second half of my life and where I wanted to set roots. I always loved the area, and I figured it was a good time to make the move. So, I sold off my remaining businesses and properties, packed up, and moved here.

Favorite things to do in the area: I'm a motorcycle and hot rod enthusiast, so when I'm not wrenching, I'm riding or driving! There's quite a few great scenic routes around our area that are great to get out on.

Most recent local place you ate out at? Jimbo's – eggs and grits, baby!

What's missing from the area? One of the biggest trade-offs I had to succumb to in moving here was a subpar music scene. Having been a professional touring musician and record storeowner coming from a larger city, it was certainly a step down in moving here. It's not to say that we don't have anything, it would just be nice to have a little bit more of a variety.
What's your personal theme song? The Detroit Cobras' "I Wanna Holler (But the Town's Too Small)" I think some of my prior statements explain this one.

What local event are you most proud of producing? This is easy, hands down – Rims On The River Vintage Car, Hot Rod & Motorcycle Show! I appreciate the whole retro nostalgia look and feel of the vehicles as well as the time periods that they represent. It's also a chance where so many people can come together and swap stories and insights to this lifestyle.

Which do you prefer, two wheels or four? As much as I love both, I'd have to pick two wheels. When I first started to ride, I instantly fell in love with the sense of freedom that I experienced. No phone ringing, no texts, no one asking me why or when, just me and the beautiful scenery passing by! If you've never experienced it you probably wouldn't understand.
If you were making a crest that represents you, what defining elements would be on it? I think it would have to contain the helmet of a samurai. It would represent the strength, dedication, and discipline that these hired warriors exemplified. Many samurai were also artisians once their prior employment was no longer necessary. I feel this somewhat sums me up.