Inside the Writers' Room
ILM's rising literary scene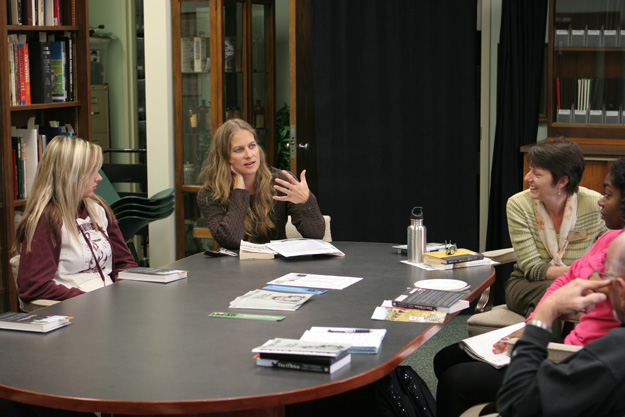 Last year may very well have been the tipping point for the Wilmington writing scene.
The area has been able to boast the presence of Clyde Edgerton, David Gessner, and John Jeremiah Sullivan for years, but a new corps of writers have emerged and garnered national attention.
Among those for whom 2013 was a big year were JASON MOTT, the Bolton native whose debut novel, The Returned, is the basis for the new ABC show Resurrection; HANNAH DELA CRUZ ABRAMS, who recently won the national Whiting Writers' Award; and REBECCA LEE, whose collection of short stories Bobcat and Other Stories has received glowing reviews from publications across the country, including The New York Times.
The circumstances that bring writers to Wilmington are as varied as the locales from which they came. While both Abrams and Lee had a familial connection that drew them back to Wilmington, Lee originally hails from Saskatchewan, a prairie province in Canada. Abrams, meanwhile, spent much of her childhood growing up in the South Pacific, a period of her life that she is chronicling in her forthcoming memoir, The Following Sea.
For Abrams, whose father was born and raised in Wilmington, southeastern North Carolina was one of the "few constants" she had in terms of place.
"I spent a few summers visiting my late grandparents," she says. "My grandmother, Myrtle, may be the reason this part of the world seemed so impossibly lovely. She kept hydrangea gardens, and there always seemed to be a pair of mourning doves nesting in the grate of my dormer window."
For Abrams, Wilmington offers a key to understanding her father, to retrieve "some physical manifestation of the past" as she continues working on her memoirs.
Besides winning the Whiting Writers' Award for fiction/nonfiction, Abrams also has received fellowships from the North Carolina Arts Council and Hartshook. Madras Press published her novella The Man Who Danced with Dolls in 2012.
Lee, whose work also has appeared in Atlantic Monthly, has received the Danuta Gleed Literary Award. Chapel Hill's Algonquin Books published Bobcat, which includes the story "Fialto" that earned her a National Magazine Award for fiction.
For many of the area's writers, the creative writing program at University of North Carolina Wilmington – for which Lee and Abrams both teach – has played an instrumental part in bringing them into the fold and keeping them there.
The program, counted among the fifty best MFA programs in the nation by Poets & Writers Magazine and whose non-fiction track is ranked third in the nation among its peers, has been instrumental in giving writers a community to develop, share, and discuss their work.
In large part because of the creative writing program, when one emerges from the solitude of their work, Abrams points out, one has the opportunity to be in conversation with other writers.
"We all write in solitude, but that this situation is not lonely or distressing for me can be credited entirely to the incredibly kindness and lethal, felling intelligence of the writers here. My friends are everything," Abrams says.
Among those friends, Abrams counts Sullivan, a former professor whom she describes as a "great friend and reader" and SARAH MESSER, poet, author, and fellow faculty member at UNCW.
ALEXA DORAN, a poet and current student of the MFA program, says UNCW offers an environment where "both students and professors seem to be able to come together on equal footing" in the treatment of their work.
"I feel especially lucky since writing communities often succumb to the undercurrent that essentially the members are all in competition with each other." Doran says. "The community I have found here in Wilmington is genuinely supportive and excited about each other's work."
As in nature, conversations about the writing life in Wilmington often return to the sea.
"Having the ocean so close to home was definitely a major selling point for me," says Doran, a former Tennessean. "It's a wonderful reminder of how complex the universe is."
For Abrams, personally, the ocean is what she knows and what is most comfortable. As for others, Abrams believe "there's something about being out on the edge of something, the land falling away, the smallness of it – a quiet … that could be appealing to a certain group of people."
Click here to see more photography by Kristen Corley.