Inside Scoop
Boombalatti's ramps up ice cream offerings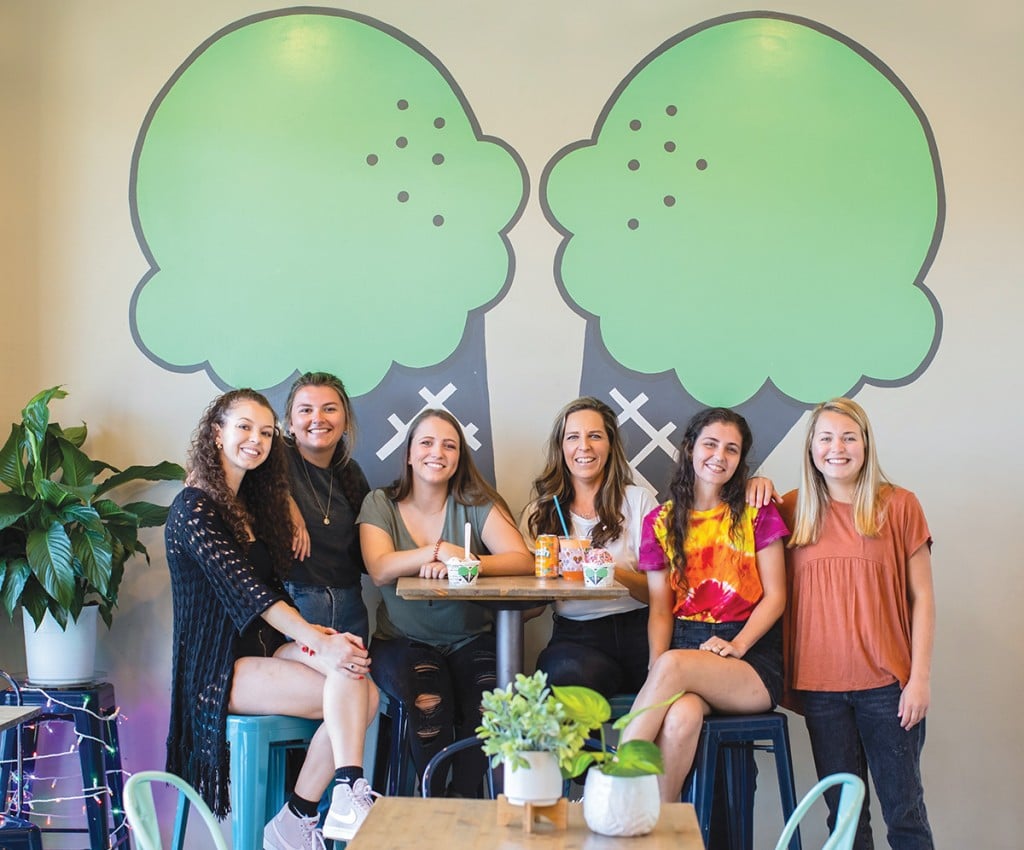 It was a good thing that two nine-to-fivers decided to trade in their laptops and conference calls and move to Wilmington. Why? The answer is simple – Boombalatti's. The local ice cream shop has become synonymous with the words Wilmington and dessert.
KRISTEN and WES BECHTEL readily admit they had "absolutely no idea what the heck we were doing," when they decided to open "Boom" as they now affectionately call their shop.
The Pennsylvania natives decided to trade one climate for another.
"We picked Wilmington off a map, moved here on a whim with little money and no jobs and have never looked back," Kristen Bechtel says.
Wes Bechtel, who was a recent MBA graduate (and frequent consumer of ice cream since childhood) was looking to start his own business. In between conference calls and emails, he discovered one day that an ice cream shop was currently listed for sale online. And Boom! Boombalatti's was born.
The Bechtels' world quickly went from being predictable to not. Kristen Bechtel easily remembers that first summer of business.
"There were a lot of moments when employees came to us and said, 'What do we do when …?' You could easily insert everything that goes wrong owning your own business at the end of that question," she recalls.
But the couple persisted. Not only was starting a business for the first time daunting, but Kristen and Wes had to adjust their homemade ice cream-making skills for a much larger audience.
"We had made ice cream at home, but in very small batches," Kristen Bechtel says. "Figuring out how to scale those recipes and what worked and what didn't work when it came to new flavors was a learning curve."
Speaking of flavors, Kristen Bechtel mentions their chocolate fudge brownie is probably their year-round bestseller, and peppermint stick is popular around the holidays. Personal favorites? For Kristen, it's cannoli, and for Wes, it's chocolate peanut butter fudge with a peanut butter shell. And, yes, they have had some not-so-favorites. "We did make a siracha peanut butter flavor once and thought it might sell. We didn't sell a single scoop," Kristen Bechtel says.
With all their trials and errors now behind them, it is clear they are on the other side of things now. They have three locations, with about thirty-five employees for all three shops. Their Forum shop off Military Cutoff Road is the busiest of them all, so most employees work there.
That 1,500-square-foot spot is expanding into neighboring space where Tama Tea used to be located, which will help Boombalatti's with more space for production and make about twice as much ice cream in the same amount of time.
KATIE CRENSHAW, who has worked at The Forum location for three years, can attest to the success.
"Kristen and Wes are both extremely devoted people," she says. "They make running three ice cream shops seem easy, even with a line out the door most of the time."
EMMLIE OWENS agrees with Crenshaw.
"It is nice that as owners they are still involved with scooping for customers and working events," she says.
"All the shops are doing well given the current state of the world," Kristen Bechtel says. "During (initial COVID-19 shutdowns), we had to pivot and figure out how to continue making money to pay our employees."
So, they decided to deliver. "It was not easy, but we made it work," Kristen Bechtel says. "Wes once delivered 300 pints in one day during COVID. The logistics of it were a disaster, but we survived.
"We found Hampstead was supporting delivery more than any other area of town."
They ended up opening a shop there.
Being a beach town, Wilmington has its fair share of treat options, a fact that Kristen Bechtel is very aware of.
"Wes and I love food and dessert, traveling, and trying new things," she says. "When we try a new dessert, we immediately think could we turn it into an ice cream?"
Keeping up with the competition and following trends are always on their minds. The couple plans to attend an ice cream short course at Penn State in January. "It was the same class that Ben & Jerry's started out with," Kristen Bechtel says.
The ice cream entrepreneurs are always thinking about next steps, but for right now there is a pause.
"We of course are always contemplating where the next Boom will be," Kristen Bechtel says, "but no firm plans are in place."
They recently made a pact with one another to not entertain the idea for a solid 365 days.
"These last couple of years have been very trying," she says. Also, they have two young girls competing for their attention as well. "We want to be engaged and be able to enjoy them while they still think we're cool."
---
Info: @boombalattis on Facebook and Instagram
---
To view more of photographer Megan Deitz's work, go to megandeitz.com.
Want more WILMA? Click here to sign up for our WILMA Weekly email and announcements.