Inner Circles
Young filmmakers explore how female friends interact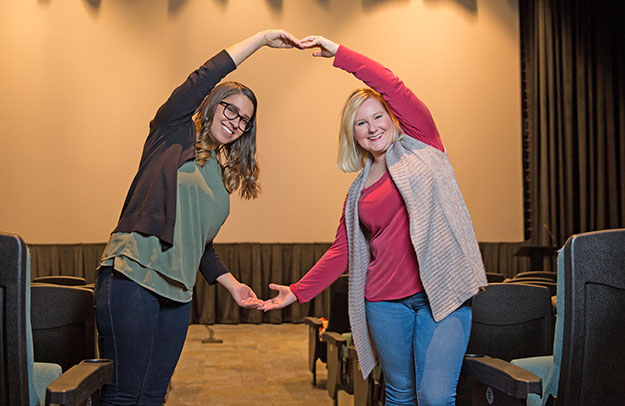 Two University of North Carolina Wilmington seniors are raising awareness of women shaming through their upcoming documentary, Circles.
MARIAH SMALLWOOD and REBECCA FIRTH, both film studies majors, became a director/producer power duo and "partners in crime" while filming this documentary, which features teenage girls to women in their sixties.
"I felt like this was a timeless issue and needed to be addressed," says Smallwood, the film project's director.
The idea for the film came from Smallwood overhearing a group of women one day while having lunch at the beach. After one of the women walked down to the water, Smallwood was surprised at the negative conversation she heard from the rest of the women. "I was flabbergasted," she says and made a phone call to her mom.
What she then learned from her mom, that "this sort of talk between women doesn't stop, recalling that she knows several women her age that do the exact same thing," jumpstarted Circles.
"The documentary is really a community-based project" Smallwood says. "The backstabbing and women shaming are not just an issue with young people but women from a large demographic."
Smallwood and Firth chose a group of nineteen women and filmed them in a comfortable, natural environment that included their homes and let the conversations flow. What resulted was a "playful, energetic" film with a "feel good approach," Smallwood says.
"I didn't want to point fingers but make women of different generations not feel alone. I wanted to make it relatable," she says.
The film opens up the floodgates for conversations regarding friendships, drama, and jealousy that can ensue in some female relationships. The target audience is for middle and high school girls, Firth says.
"As I learned from making this movie is that high school never ends," Smallwood says.
One high school girl who benefitted from the experience was eighteen-year-old Maggie Riddle. "It was nice to sit down with two of my good friends and talk about our relationships with our friend group," she says, "I think all three of us are a little bit closer now."
Even though only women are present in the film, there was a male presence behind the scene. UNCW senior Matt McFarling, the sound mixer, recalls, "I was not intimidated to work with all women," he says. "Mariah and Rebecca are both strong yet kind leaders in their own way."
McFarling enjoyed the collaborative effort of the film and says "there was virtually no drama, which was nice considering our film was about drama."
Firth's love for film started when she made movies on her Barbie camera with her younger sisters.
"I started off in theater but moved to film and want to stay there," she says. "Film is permanent and lasting and you can really create change."
Firth and Smallwood are still in the process of finishing the film and have a few more interviews to complete. They hope to finish Circles in mid-March and have the project ready for submission to the local film festivals by the spring. And don't be surprised to see a sequel to Circles in the future.
"We would call the male version of our film Squares," Smallwood says.
To view more of photographer Chris Brehmer's work, go to www.chrisbrehmerphotography.com