Info Junkie: Beth Roddy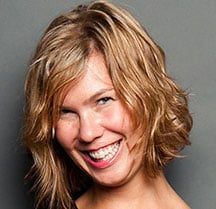 Writer, digital strategist, project manager
Beth Roddy is a writer who recently earned her MFA in creative nonfiction writing at UNCW. Her MFA thesis, title "After Dad," is an investigative memoir about the mysterious death of her father while overseas in Thailand and she is working on tech components to it. "I am currently developing a companion digital 'crime wall,' which consists of vivid visuals, videos and found sounds … plotting my Dad's whereabouts during his last months alive."
Here are her recommendations for media, sites, apps, and more.
Reads BOMB Magazine, in which artists interview other artists.
When online, reads Brain Pickings. "One part lost-and-found artifact, one part book review, to one part geeked-out serenade to science, design, art & technology. Articles such as: Carl Sagan's Golden Record as eternal mixtape, Ursula K. Le Guin on the Sacredness of Public Libraries, and Bruce Lee's Never-Before-Seen Writings on Willpower, Emotion, Reason, Memory, Imagination, and Confidence make my Sundays shine."
Top podcast is NPR's Invisibilia – "about the invisible forces that control human behavior – ideas, beliefs, assumptions, and emotions. Favorite episode is about a blind man that uses echolocation to get around: How To Become Batman"
Book picks include Charles Yu's How to Live Safely in a Science Fictional Universe. Celia Riverbark's Bless Your Heart, Tramp: And Other Southern Endearments "is on my coffee table right now. Open. Permanently." And Sei Shonagon's The Pillow Book. "It's a Japanese courtesan's 'collection of lists, gossip, poetry, observations and complaints.' It's brilliant. Pretty much the BuzzFeed from the year 1002."
Go-to app is Evernote. "I built my own searchable 'Google' with Evernote's notebooks: screenshots, voice memos, PDFs, articles, snippets – all accessible offline and easily shareable, and everything is searchable including PDFs."
Online at:
Linkedin.com/in/bethroddy