Inclusive Ideas
Tracey Jackson heads up new African-American Business Council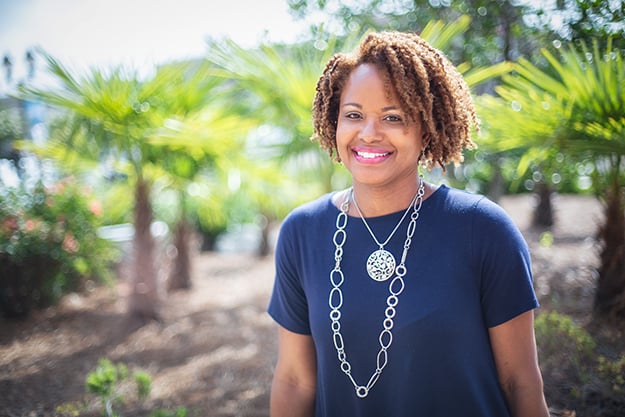 When TRACEY JACKSON, who was born and raised in Leland, moved back to Southeastern North Carolina, she discovered the community she remembered had changed in her absence.
"When I lived here in the late '90s and early 2000s, as a younger African-American businesswoman growing my career, I felt there was a strong core of leaders and partnerships for economic inclusion and development," Jackson says. "I left for fifteen years, and when I returned, I couldn't find that core group anymore. They'd all retired, moved away, or passed away."
After twelve years in corporate America, most notably as the director of talent acquisition and strategy for Verizon Wireless, Jackson decided to return home and start her own business as a productivity coach. Through u-nex-o!, she helps her clients increase their productivity, create successful outcomes, and ensure they have a strong energy flow through times of change.
As a new business owner in Wilmington, she searched for the community support she remembered. Instead, she found an opportunity to create it.
In 2017, Jackson met Natalie English, president and CEO of the Wilmington Chamber of Commerce, at a women's luncheon. "I asked her what she could do to help more African-American business owners and leaders become a part of the chamber, so they could understand the benefits and resources that are afforded to them through it," Jackson recalls.
After meeting a few times to talk through ideas, the African-American Business Council was born. A committee under the Wilmington Chamber of Commerce, its mission is to help the chamber understand the needs of the black community, incorporate them into its strategic plan, and ensure the chamber's mission is inclusive of all businesses.
"There's a lot to be done, which is why it was important to establish who we were as a group and how we operate," Jackson says. "This allows us to stay focused and keeps us from getting pulled in different directions."
Some of the areas the council is already focused on include helping minority businesses get prepared to receive government contracts, helping businesses understand why diversity programs in their contracts are important, networking opportunities to help build solid relationships throughout Wilmington, creating youth readiness programs so the next generation of business leaders can begin gaining valuable experience, and advocating for public policy.
"We will be a voice, not the only voice, on issues that impact black business and economic development and share that with the chamber," Jackson says.
One of the challenges the African-American Business Council seeks to address is the lack of representation on nonprofits boards.
"To make a difference systemically in a community, we need black leaders prepared and trained to sit on boards," Jackson says. "When larger corporations say they can't find black or minority businesses to do their contract work, that's a problem. If we can help small businesses get certified so they can work on contracts, nurture them, or get them to the right organizations to help them through that process, that will make a real difference."
The first step to getting involved is joining the Wilmington Chamber of Commerce, she says. "If you join this year and become a part of the African-American Business Council, the chamber will offer 50 percent off membership fees now through the end of the year," Jackson says. "If you're already a member of the chamber, you're welcome to join our meetings, which take place on the third Wednesday of every month."
For Jackson, it comes down to educating people across the board and helping them make vital connections.
"I believe that if you serve the community, it will serve you back," she says. "Businesses help communities grow, and my goal is to build a community where all our children and their children's children want to come back and live here by choice, to grow and raise their own families."
Tracy Jackson is a speaker at WILMA's upcoming Women to Watch Leadership Accelerator event July 19. She will help lead a workshop on "Building Your Sphere of Influence." For more info, go to WILMALeadership.com.
To view more of photographer Chris Brehmer's work, visit www.chrisbrehmerphotography.com