In the Swim of Things
Perry Maxwell rules the water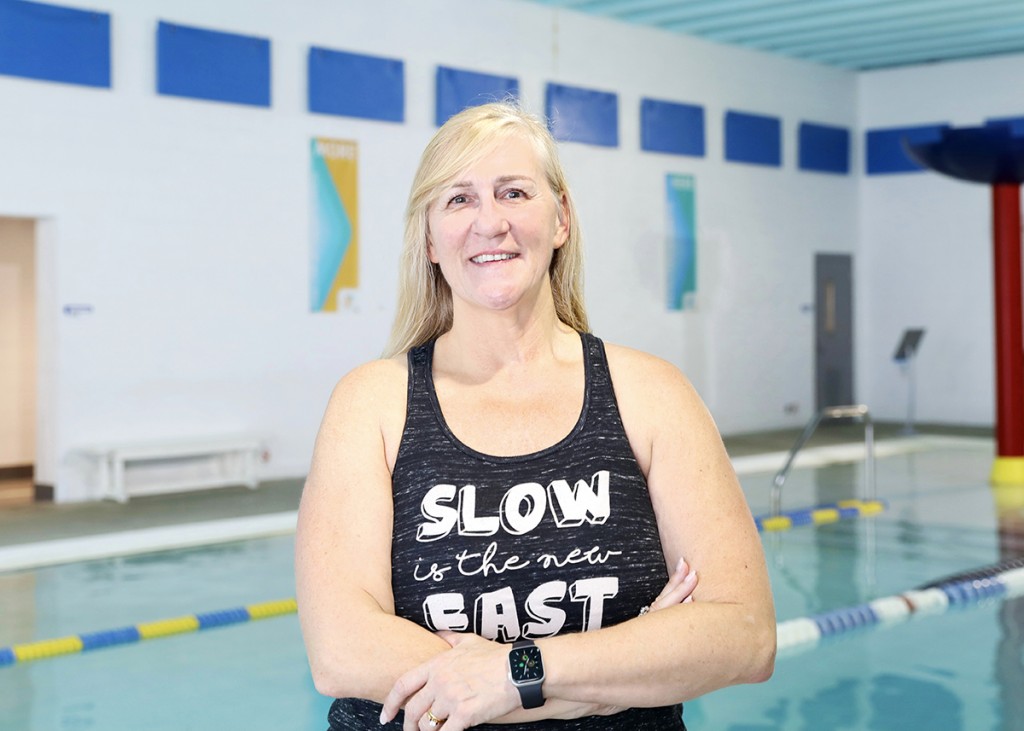 PERRY MAXWELL is at her best when she's in the water. She's been swimming competitively since she was eight years old when she watched other kids compete at her neighborhood Long Island, New York, swim club. She asked her mom if she could try it. And the rest, as they say, is history.
For the past eighteen years, Maxwell has been a coach for the Masters Swim program of the Cape Fear Aquatic Club at the YMCA of Southeastern North Carolina. Masters Swim is a program for all levels of swimmers from beginners to seasoned competitive triathletes, lap swimmers, swimmers who want a group workout, and those swimming to live a healthy lifestyle. Some members, ranging in age from their twenties to seventies, swim for fun while others swim competitively.
"I grew up swimming. It was my passion," Maxwell recalls. "I enjoyed the ability to be my own determining factor on my success. Swimming met my need to challenge myself, do the hard work, and ultimately see the results."
Maxwell has never been afraid of the hard work. At age eight she was swimming three times per week. By age ten it was five days per week, and by age twelve it was twice daily coupled with twice-weekly weight lifting. After being scouted by college recruiters and receiving over a hundred letters and full scholarship offers from thirty universities including Harvard, Yale, Brown, and Princeton, she choose North Carolina State University. She majored in recreation administration and program planning.
Maxwell swam every morning before classes, again in the evening, lifted weights three days per week, and spent Sundays in "psych sessions" setting goals.
"I liked working hard, and I liked the sense of belonging and camaraderie with the team," she says.
Maxwell specialized in the 400-, 800-, and 1,500-meter distance freestyle, 200-meter butterfly, and 400-meter individual medley races. In 1983, she swam in the United States Swimming National Championships where she made the qualifying time to participate in the Olympic Trials the following year in the 800-meter distance freestyle race.
Swimming opened many doors for Maxwell. Before graduation, she was recruited by Procter & Gamble (P&G) for a sales position. She landed in the management track and lived in four states in eighteen months. After two years at P&G, she purchased a home in Wilmington, a city she knew well from visits to her parents' Carolina Beach condo during college. She became certified as a personal trainer and ultimately enjoyed a thirty-three-year-long career at the YMCA, the last three full-time years as executive director. Then she transitioned to a part-time swim coach to spend more time with her two daughters.
Maxwell teaches more than swim strokes in the twice-weekly sessions.
"I teach my swimmers to be technically efficient, to become experts on themselves in the water," she says.
She is also a post-rehab specialist helping patients regain mobility and has taught swimming for nearly every branch of the military. "When I coach someone, we both get better," Maxwell says. "I'm honored that they let me in."
Maxwell treasures the fellowship that exists within the group. "Camaraderie is one of the blessings I get," she says. "We have great friendships regardless of the forty years difference in our ages. We share across genders and across the decades of our lives. Our fellowship builds spirit, mind, and body."
SUE MEIER is a Masters swimmer and takes a weekly personal training session with Maxwell. "Perry was put on this earth to coach people," Meier says. "When I first started swimming with her, I couldn't swim to the end of pool and back without being winded. Perry didn't disregard me; she worked with me. She challenges and encourages me, and I continue to improve. She is an amazing person."
Meier advises to be ready to work hard if you join the currently wait-listed program. Participants swim between one and two miles per workout depending on individual speed. Following swimming and kicking warmups, participants swim two to four sets comprised of combinations of even and fast-paced swims, kicking, and swimming using fins with 15-second rest periods, and stroke technique practice culminating with an easy-paced cooldown.
When the pool closes at the end of the day, Maxwell says, "This job feeds my soul. I love everyone I coach. And I have a special place in my heart for those who are afraid of the water. I teach them to overcome their fear. It's never too late to learn to swim."
---
To view more of photographer Aris Harding's work, go to arisharding.com.
Want more WILMA? Click here to sign up for our WILMA newsletters and announcements.