In the Leaves
Tea trends include new twists, loose-leaf menus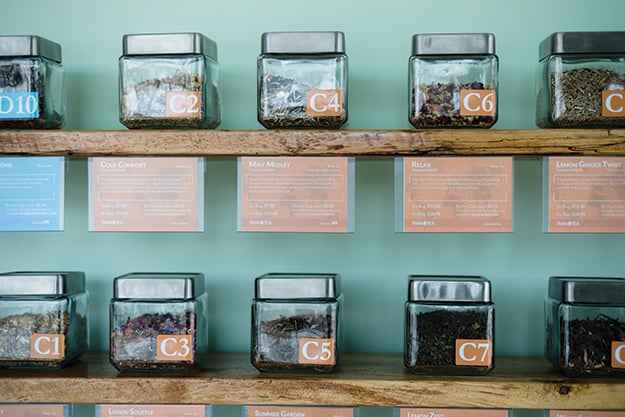 WHEN SHELLY MCPHATTER started drinking tea in high school, she went to restaurants and shops that primarily sold coffee, and later, lattes and mochas and other coffee options. There were few tea offerings. Now, she's hit the tea mecca at TAMA TEA, located across from Mayfair Town Center in The Forum.
Tama Tea joins a few other Wilmington area spots that focus on tea offerings.
For instance, ZOLA COFFEE & TEA SHOP (inside Pomegranate Books on Park Avenue) offers twenty-eight varieties of loose-leaf tea by the cup and several specialty tea lattes that they blend in the shop. The shop was the cumulative brainchild of Kathleen Jewell, who opened Pomegranate Books more than ten years ago, and her daughter Adrian and son-in- law Manol Georgieff, who later helped bring Zola to life.
Georgieff says they use a mortar and pestle to hand-grind several of their spice blends, and they chop whole ginger and turmeric root, rather than the powders, for other recipes. All drinks can be made vegan upon request, and many can be prepared as iced drinks.
At LUNA CAFFÈ on Castle Street, owners Will Chacon and Nina Hayhurst-Chacon have served all organic, fair trade teas in a variety of black, green, white, and herbal teas since they opened in 2013.
They saw an increase in tea sales, they say, when they recently switched to loose-leaf tea. But coffee is still a much bigger seller in their store.
Back at Tama Tea, loyal customer McPhatter acts as Tama Tea ambassador, pointing out the various categories of tea that line the wall, the varieties, and the tea-tending equipment. She points out the Think Tank, a small private room that could be reserved for free for meetings or other gatherings.
"I think it's just awesome that we have this here," she says of Tama Tea. She works in Porters Neck and stops by on her way home from work three to five times a week. She's tried all the signature drinks, she says. They include sweet drinks such as Cinnamon Roll and refreshing drinks such as Cucumber Basil, Ginger Mint, and Vanilla Black. Green Chai Coconut, Matcha Matcha (Japanese matcha combined with milk), and Vanilla Rooibos (a South African red tea latte with a splash of vanilla) come under the "something different" category.
Kelly Struble and her husband, Wells, along with Rocco Quaranto co-own Tama Tea, which opened in December but was an idea brewing in Kelly Struble's mind four years ago. A tea drinker herself, she questioned why nobody had opened a business that offered the variety of teas she wanted to see and with which she wanted to experiment.
Tea has long been considered stuffy and boring, she says, and she wondered why fun drinks couldn't be made with it. After all, according to the Food and Agriculture Organization of the United Nations, tea is the most consumed drink in the world after water.
And water remains important to Tama Tea. Kelly Struble says the name came from a New Zealand water-based explorer named Tamatea (pronounced Tom-a- TEY-ya).
"We loved this name, not only because tea was inherently in the name, but because he was specifically a water-based explorer. Water is such a huge part of Tama Tea that you can see elements of it everywhere – a boat hanging from the ceiling in the store, in our logo (half tea leaf/half water droplet), and obviously in every cup we serve," she says.
Kelly Struble has a background in marketing-related endeavors. While she grew up outside Charlotte, she's lived in Wilmington for twelve years.
She started experimenting with tea, which she calls more versatile than coffee because you could mix it with citrus, fruits, and other ingredients.
She was studying for her MBA at Georgia Southern University and had been writing up small business plans. But the businesses for which she wrote the plans weren't quite right. When she thought of the tea business, it all felt right. So she had the excitement and a plan but was delayed because she couldn't find a suitable location. She tabled the idea until the spot in The Forum became available.
She says she's been happily surprised by the support she and Tama Tea have had from customers. She always believed in the concept of Tama Tea but was pleased others seemed to agree, based on the online reviews and positive feedback.
Kelly Struble doesn't spend much time in the store these days. Rather, she's mostly in her kitchen at home, in a quieter atmosphere more conducive to her ongoing experimentation.
She is able to do this because she knows her team will handle the business. She is also checking into franchising the business and is looking to state and national markets. She considers herself entrepreneurial.
"I love building something from scratch and watching it grow," she says.
To view more of photographer Erik Maasch's work, visit websta.me/n/emaasch