In The Cards
Looking to the new year, with a little help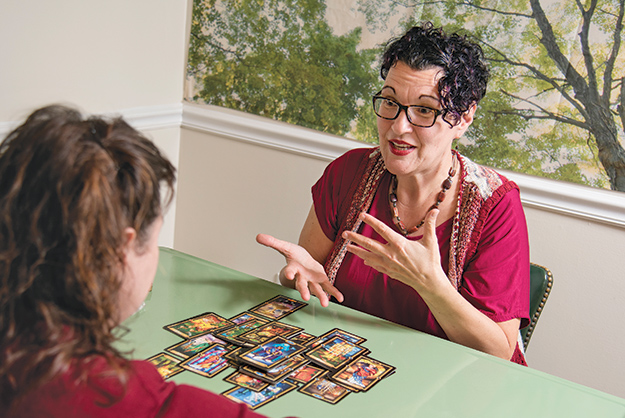 Say "psychic" to anyone, and there is an instant visual in their mind's eye – a dramatic figure draped in scarves and jingling jewelry, who beckons you with a crooked finger to join her in a stuffy, underlit den of incense, candles, and zodiac signs, whispering of dark mysteries and occult premonitions.
What you do not picture is an enthusiastic golden retriever licking your hand in a well-lit condo living room, and the open, smiling face of LORRI GIFFORD (above). But this is where I've come to learn what the next year holds for me.
Gifford has been reading tarot cards for over thirty years and says she likes the cards as a medium because she is such a visual person – the symbols, colors, and stories in each card speak to her.
And while the stereotype of the person who goes to visit a psychic is a middle-aged woman between thirty and fifty, (and at thirty-seven, I'm one of those), Gifford says recently the demographic of her visitors has diversified immensely. It turns out young people and men are also searching for answers and guidance these days. The rise of internet traffic may have something to do with that, but word-of-mouth accounts for a large amount of her business.
We sit down at the table in her immaculate kitchen, and I shuffle the jewel-colored cards in my hands, trying to clear my mind of expectations. The cards themselves are beautiful and strange to me, but intimately familiar to Gifford, who literally wrote a book, 90 Days to Learning the Tarot, on how to interpret them.
As she lays them down one by one, her voice enters a kind of stream-of-consciousness cadence. She covers everything in my life for the next six months: my career, where I'll be living, trips I'll take, the emotional patterns I repeat, and ending with the prediction of a slow-growing relationship by July.
I don't know how she knew I was single. It makes me wonder if there's something about the way I talk, or the way I enter the room, that gives it away. Or there's the possibility, not to be dismissed, that maybe the cards actually told her that. But regardless of whether or not I choose to believe that particular prediction, the rest of her words are pretty spot on.
As she's talking, I can feel my brain filling in the gaps. That project I need to give more time to? That's obviously my book. The move she sees happening in the beginning of the year? Well, I know my roommate's girlfriend is looking to move in when her lease is up. And when she talks about the way I hold on to certain circumstances because I think I need to learn more? I'm not going to lie – I teared up a bit. But I'll keep that one to myself.
The point of getting a reading, whether or not you believe Gifford and the cards are reading your future, is that at the end of it, you just spent thirty minutes thinking really hard about some of your most important life decisions.
Gifford regularly does readings at Noni Bacca Winery the first and third Saturdays of the month in the evening, and at Island Massage and Day Spa on Monday evenings. You can also schedule her for parties, large gatherings, or private consultations by going to her website readingswithlorri.com, where she also offers spiritual counseling.
And, check back in with me in seven months, I'll let you know how that new relationship is going.
To view more of photographer Mike Cline's work, go to www.michaelclinephoto.com.