In Light of the Holidays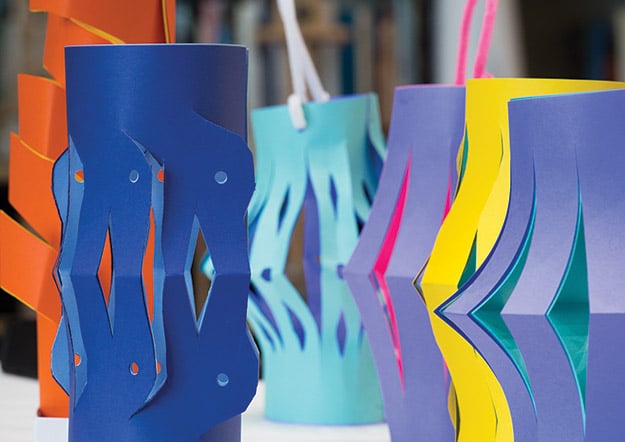 Tis' the season for things that make us feel warm and fuzzy: crackling fire in the fireplace, smell of cookies in the air, and a ubiquitous tradition of family, friend, and community gatherings. In December, the days overflow with holiday events.
The Bread & Lights festival and fundraiser at Cameron Art Museum is one of the signature affairs marked on the calendar. It began November 20 with the Party in the Pines and continues through December 6. During this span, the festival offers a full agenda of seasonally themed events from kid and community workshops to cookie baking to art exhibits.
The festival's spotlight shines on artists and bakers, showcasing both gingerbread and lantern creations – the bread and light.
These themes are manifested with two exhibitions and competitions: The Art of Gingerbread and The Art of Illumination. The museum started a gingerbread contest on a small scale last year, but this holiday is bumping up the scale. The lantern portion is an inaugural exhibit that provides an interesting perspective on how personal creating can be.
"We wanted to open the festival up to cultural holidays other than Christmas, and it seems that most of them incorporate light," says Nan Pope, the museum shop manager, who gets really busy this time of year heading up the annual event.
The Art of Illumination exhibit includes artists from a variety of backgrounds and locations working with a range of materials from glass to clay, all brought together with an alike goal of making the same object: a lantern.
Artists were given guidelines and asked to submit a sort of proposal, which a dedicated committee then reviewed before choosing the participants.
Maria Borghoff is one of the competing artists.
The natural colors inside Borghoff's Wilmington apartment are cozy, and the aroma of some sort of tea that she's drinking is immediately soothing. She speaks about her life, philosophies, and art in a most deliberate and focused manner. When she says that in addition to being a mixed media artist, she has been teaching yoga for five years, it all seems fitting.
"Yoga philosophy, neuroscience, and bioenergetics are the biggest influences in my work," she says.
Borghoff is a teacher the CAM's Museum School and at Pineapple Studios.
She has been challenging herself in her own art as well. With a portfolio full of drawings, large sculptures, and interactive sculptures, Borghoff recently added handmade paper to the mix.
"People just really love paper," Borghoff giggles.
She takes me downstairs into the garage turned studio where there are numerous experiments in the works. Clusters of fibrous sheets molded to bowls, pots, and other household objects are staggered around the room.
The technique she is testing is paper casting. It allows her to use handmade paper to make three-dimensional shapes.
It's papermaking that inspired Borghoff to participate in the lantern competition.
"I'm usually a little hesitant to make something that has such a specific call, but with making so much paper lately I thought it might be really fitting and a good challenge," she says.
It's October, and Borghoff is underway in the planning phase for her lantern. She shows me the proposal. It's a generic piece of paper – looking very boring alongside her more colorful handcrafted pieces – with a sketch of the large-scale shape that she plans to be her lantern. She has her idea mapped out with dimensions and angles and is eagerly anticipating the way the light will illuminate the textured paper.
In keeping with tradition, the museum is bringing back the Art of Gingerbread exhibit and competition that gave anyone who registered in advance a chance to express themselves via a Hansel and Gretel-inspired pastime.
"We were blown away by what they did with it," Pope says about last year's gingerbread contest.
People incorporated their life stories, dreams, and even businesses into the construction of their delectable masterpieces.
There were nine entries that ranged from professionals to first-time gingerbread house creators including a sixteen-year-old with dreams of being a pastry chef. This year, visitors can expect just as thoughtful of creations. Plus, the smell of gingerbread leaves no choice but to embrace the warm spirit of the season.
While old customs are timeless, change can be just as fulfilling.
This marks the first year that CAM is doing the festival independent of other organizations.
"(The museum's) mission is art education and creating and expression of creativity and originality," Pope says. "We've reframed the festival to match what our mission is."
To really light up this season of early nightfall and celebrate the event, the festival's final shebang will be a lantern floating ceremony.
To view more of photographer Mark Steelman's work, go to www.marksteelmanphoto.com.