In Care Of
A mom's notes on fostering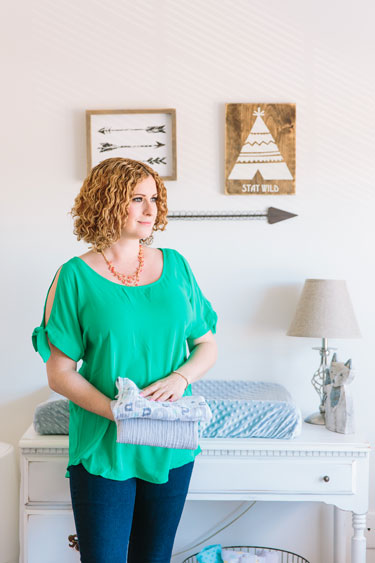 ANGELA BELANGER beams as she recollects how her first foster child gave her the moniker, mom. Belanger (left), thirty-two years old, is a career woman and single whose decision to make a difference in the lives of others has made the biggest impact on her own.
"The more time I spent at church and tried to incorporate it into my life, I realized I felt called to serve in a different way," Belanger says. "I took stock of my life, and it was one of those lightbulb moments."
That is when Belanger, a fleet logistics manager at Enterprise Holdings, began the process of becoming licensed to be a foster parent through New Hanover County's Department of Social Services, deciding to go through her own county "to make the most direct impact."
The "intense licensing process" is rigorous and typically takes three to six months to complete. Prospective foster parents must be at least twenty-one years old, have a thorough background check, take a thirty-hour training class that outlines all the rules and regulations involved, complete a health physical, and have a home fire safety inspection.
The first foster placement, Belanger says, "that made me a mom" came just a day after her full licensure was made official. A five-week-old infant was placed with Belanger until she was six months old. Now, Belanger is mom to a fifteen-month-old who she's taken care of since the little girl was nine months old.
"There's been so many firsts we've had together. I might have taken away more from the experience than my kids have," Belanger says. "I've learned and grown so much as an individual. I didn't know if I wanted to have kids before, but I can't imagine not having kids in my life."
Belanger balks at those with "preconceived notions" of foster parents. She calls the idea that foster parents are "in it for the money" disheartening, as well as those who question her ability to "let them go." But those attitudes, she says, have made her a better foster parent.
"Parenting is hard, and being a single, working mom on top of that, but I've learned to reach out to friends and family to help," Belanger says. "People say, 'Oh, I could never let them go.' Well, I don't want to let them go, but it's not about me or any fully grown person. It's about the kids."
The goal of making sure all of "her kids" grow up to be good people is what Belanger says drives her each day.
"My child is my child. I do not love or teach her any differently than I would my own. It's about making sure they have everything they possibly need to set them up for success in the future," says foster mom Angela Belanger.
Currently, there are more than 11,000 children in the foster care system in North Carolina, according to attorney LEEANNE QUATTRUCCI, who represents prospective adoptive parents in New Hanover County and serves as a representative of the children in the foster care system as the guardian ad litem attorney in Pender County.
Adopting a foster child is an option, although it can be a lengthy process. The foster care system must work with the biological parent for a full year to determine whether or not that parent is fit to care of the child.
"It can be scary for a foster parent because you become very attached. After that year, you'd be in more of a position to adopt," Quattrucci says.
Quattrucci knows this process from both sides as she is the adoptive mother of two children she fostered.
"They were thirteen and twelve when I got my kids," she says. "You know, everyone wants babies, but the kids who get stuck in foster care the longest are twelve to fifteen because those are hard years. I found out how many teenagers were in the system and decided to go for it."
Foster care doesn't have to lead to adoption. It can provide a temporary home environment during a time of crisis, according to Quattrucci. Other opportunities to help children in the foster care system include serving as a guardian ad litem or providing respite care for foster parents.
"Fostering is a big commitment, and the first step is to get more information to see if this is the right decision for your family," says ALICE MOORE, social work supervisor for the New Hanover County's DSS Child Placement Unit. "Interested families should also talk to a currently licensed foster parent to get firsthand information about fostering."
Belanger encourages people to take that first step to find out how they can help.
"If you feel called to help a child that is in a less than desirable situation, see what fits. There are never enough hands that can be there helping," she says.
If interested in learning more about foster care system, call Alice Moore at 798-3566.
Correction: An earlier version of this story incorrectly stated the number of children in foster care in the county. There are about 11,000 children in foster care for the state of North Carolina.
To view more of photographer Lindsey A. Miller's work, go to www.lindseyamiller.com.