ILM Underground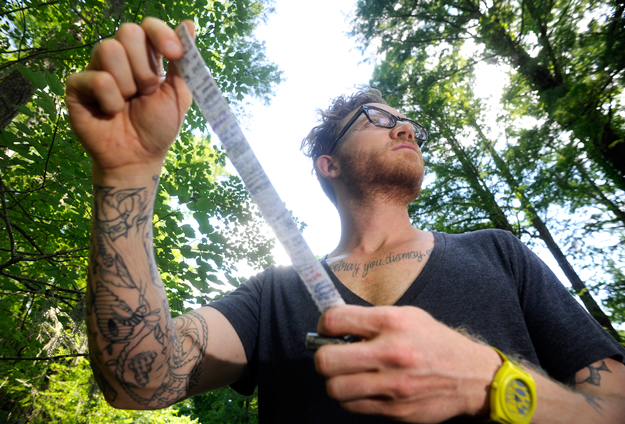 Looking around as you walk down the street, on your way to work or out to dinner, you might be surrounded by them. As you wait for your name to be called at the coffee shop, one of them could be next to you. You could even have one living in your own home.
Disguised as every day, regular people, Geocachers, Paranormal hunters and the elusive Hash House Harriers, lead the same lives as you- for the most part- until their alter-egos emerge and take to the town on their secret hunts, investigations and runs.
Say what?
Geocaching is a global game of hide and seek. Paranormal hunters seek out the stories of the undead and the history of those who once lived in our town. And, the local Hash House Harriers are dubbed "a drinking club with a running problem." Here's a personal account of encounters with these unique, lesser-known groups hidden amongst us in Wilmington.
Treasure hunt
Hidden all over the nation are tiny treasures just waiting to be found, some out in the open, others tangled in riddles. But each one holds a tiny reward for those willing to seek it out. Geocaching is an adventure for everyone. These little known hide and seekers are a lively group driven solely by the thrill of the hunt.
By simply downloading an app to my iPhone, I discovered Wilmington's network of faceless individuals engaged in a massive game of hide, explore and go seek. The app called GEOCACHING costs $9.99 for the deluxe edition. Using your Smartphone's GPS, you can plot your trek towards these hidden treasures. Along the way, you'll receive clues and hints, and even advice from previous geocachers to help you locate the hidden cache. And once you find your first cache, it feels like Christmas! And, it also feels like you have been inducted into a secret society.
Many of the caches are small containers with a logbook to sign, items left by previous seekers and sometimes a small gift as a reward- like a shark's tooth! However, geocaching is more about the thrill and less about the reward. Most items are meant for you to look at, laugh about, take a photo and leave behind for others to find. Several of the caches here are based on or inspired by local Wilmington history like ear-shaped magnets as an homage to Gallus Meg, the Blue Post bartender from the 1700s who would bite off the ear of unruly patrons.
So not only is geocaching an adventure, it's a history lesson. One group called Boo Y'All hides treasures near haunted or spooky locales in Wilmington.
Chasing ghosts
It's no surprise or stretch of the imagination to think that there might be a few souls at unrest lurking the halls of historic buildings and homes and walking the decks of the Battleship. After some research, I found the Port City Paranormal group- a team dedicated to the age-old question of what lies beyond the grave.
"Port City Paranormal has made it our mission to enhance the quality of paranormal investigation and research, to educate the public and provide a high standard of professional excellence to our clients," said Jane and Doug Andersen of Port City Paranormal.
No conjuring, spells or chants, just insightful, educated and ethical research with a gentle approach and respect for what they may or may not find. They study firsthand accounts, all other available information and history. They focus on keeping an open mind and staying objective.
One of their most comprehensive investigations is an on-going project studying the unexplained happenings on the USS North Carolina. Called "Project BB55," the group has made several visits to the battleship over time gathering information and expanding on previous research.
Port City Paranormal meets monthly at McAlister's Deli located at 740 S. College Road every fourth Friday at 6:30 pm.
A drinking exercise
Wilmington has its own local chapter of the international Hash House Harriers, a group of wacky, costumed running and drinking enthusiasts who chart a unique running trail every time they meet followed by a trip to a local watering hole. Begun by the British in Kuala Lumpur, Malaysia in 1938, the Hashers have grown to about 1,997 groups worldwide, according to the World Hash House Harrier website. WBH3 is the local group that meets up on Saturdays at 2 p.m. Check the WBH3 Facebook page for the location of the next Hash.