If the Shoe Fits
Caroline Fisher looks for ways to build up women at home and abroad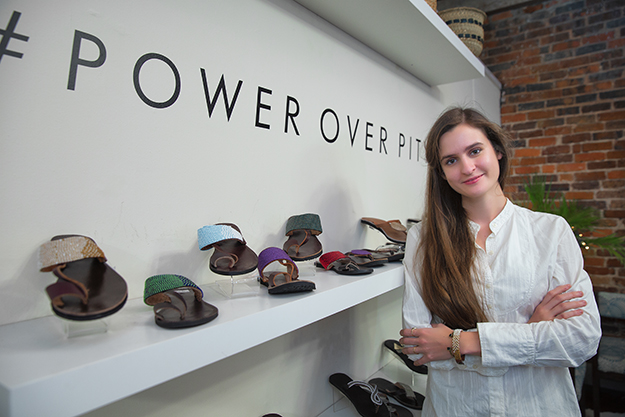 For CAROLINE FISHER, no two work days look the same.
Some days, you'll find Fisher in her studio working on new shoe designs for Seeded Hand Sewn, her line of beaded sandals made by women in Tanzania.
Other days, she is meeting with her accounting team, working in Swahili Coast, the store she and her husband, Tony Peele, opened in The Cotton Exchange last year, or even making the trip to Tanzania to meet with the members of the worker-owned cooperative.
"It really, really does vary wildly from day to day," Fisher says.
Fisher and her husband moved to Wilmington in April 2016. She says that as native Carolinians, the couple wanted to stay in the state and were drawn to both Wilmington's scenic offerings and entrepreneurial spirit.
"We just really fell in love with downtown Wilmington," she says. "There's just so much room for growth here."
Fisher says she has always considered herself "crafty," but the idea of starting a shoe company – much less one with roots overseas – didn't occur to her until 2013 when she and Peele moved to Tanzania for Peele's participation in the Fulbright Scholar Program.
"We just really became really attuned to the plight of women in Tanzania," Fisher says. "There's a real lack of economic opportunity for ladies there, and we wanted to do something where we could help employ women and help incorporate them into the economy."
Fisher says she became aware of the beautiful beading work some of the Tanzanian women were doing and came up with the shoe company as a way to showcase those skills.
Creating jobs for women in Tanzania, not just jobs in general, was something that Fisher says she wanted to focus on.
"Money that women earn gets invested back into the families at a much higher rate," she says, citing studies that show that income earned by women is spent on education for children, healthier meals, and medical care than just a general increase in income.
Finding ways to elevate women in the workplace is something that Fisher says she sees as just as important at home in Wilmington as in East Africa.
Fisher says that has become increasingly clear with the continued reports of impropriety in the workplace that have dominated national headlines for the past few months.
"I think a large part of that is because there just aren't as many women in positions of power," she says, "and as we grow as a nation, we're really losing out on a lot of very smart people when we're not incorporating half of our population into leadership roles."
These days, Fisher says she and Peele are working on their newest endeavor, East Africa Cooperative Development Group, which works to duplicate the model of Seeded Hand Sewn by creating more fair-trade and worker-owned cooperatives in the region.
"We just started doing that, and we've started working with our first partners there, and we just really see a lot of potential," she says.
The cooperative, among its several goals and methods of helping business with funding needs, also promotes women.
"I think it's incredibly important all over the globe to continue to incorporate women further into the economy and especially in leadership roles," she says.
For more information about the cooperative, visit eacdg.org.
Swahili Coast is located in The Cotton Exchange at 342 Nutt Street, and Seeded Hand Sewn products can be found at several retailers throughout the area.
To view more of photographer Chris Brehmer's work, visit chrisbrehmerphotography.com.
Want more WILMA? Check out our weekly email, which includes even more profiles and stories for Wilmington's successful women. Sign up for WILMA news on our homepage.