I, SPY
Capturing the Bond Girl Mystique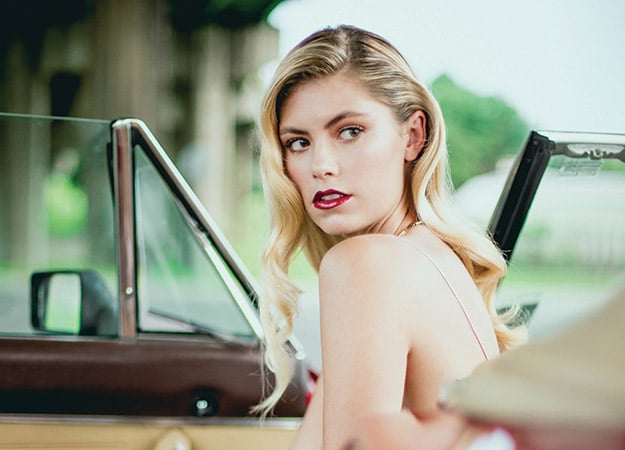 From 1953 to present day, the elusive Bond girls have never grown out of style. Why is that? Yes, those devilish grins, pouty red lips, and killer wardrobe are hard to ignore. But these muses are so much more than a dame riding in Bond's hot red convertible. Bond girls command your attention when they walk into the room. Forthright, clever, intelligent, witty, and chic — these ladies will always have you wanting more.
1990s pale pink SILK TOP by Four Seasons ($36), 1980s pale blue tulip pencil SKIRT by Marc D'Alcy ($45), 1980s gold wave link COLLAR NECKLACE by Monet ($39),1960s bone leather HANDBAG ($45), liquid gold leather SANDALS by Messeca Valentina (handcrafted in Brazil and featured in Wilmington Fashion Week) ($189), all available at The Wonder Shop
MODEL: Merritt Hunt, AMAX
CONCEPT/HAIR: Brandy Alexander, Groove Jet Salon + Spa (brandyalexanderhair.com)
MAKEUP: Kristin McKiernan, Groove Jet Salon + Spa (groovejetsalon.com)
STYLING: Tasha Tidwell, The Wonder Shop (shopthewonder.com)
PHOTOGRAPHER: Jason Hudson (thekellerwhale.com)
PHOTOGRAPHY ASSISTANT: Brad Holland, Anthem Megabiz
To view more of photographer Jason Hudson's work, go to www.kellerphoto.net.