House Party
Last Chance for White Pants goes home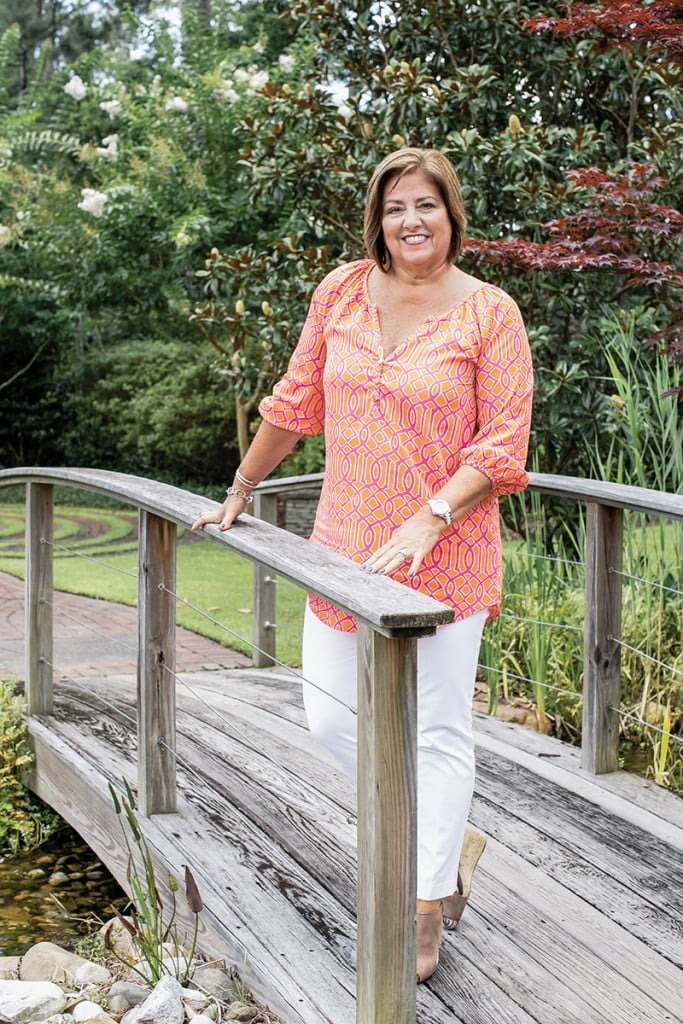 If putting away your white pants is a sad sign that summer is soon over, don't fret! Lower Cape Fear LifeCare is holding its annual end of summer Last Chance for White Pants fundraiser – with a creative twist.
Last year's twelfth annual, sold-out event held at longtime sponsor Audi Cape Fear's modern-design dealership drew hundreds of people and raised over $150,000 through ticket sales, sponsors, and live and silent auctions. This year, COVID-related restrictions on large gatherings inspired some creative thinking to reimagine the event as Last Chance for White Pants-House Party Edition.
"We knew we would not be able to have the event in our usual way this year while protecting the health and safety of participants in light of COVID-19. Instead of having 500 people in one place on one night, why not spread the fun over the course of a weekend and over many different locations," says TERRIE PRIEST, Lower Cape Fear LifeCare (LCFL) foundation manager (above).
The 2020 House Party Edition of Last Chance for White Pants will include most of past attendees' favorite pieces but in small gatherings of close friends and family. Party variations to suit every fancy include quiet dinner parties and midday brunches, bingo nights, backyard barbecues, and cul-de-sac cookouts.
The house parties will take place on the weekend of August 27 through August 30, pending any new guidelines from the state or Centers for Disease Control and Prevention.
ANA and MIKE BROWN are co-chairs of this year's event. They have been recruiting hosts, who select their guest list and event setup. Parties are already planned in homes in New Hanover, Brunswick, and Columbus counties. Additionally, a virtual silent auction takes place the week of August 24.
"Each party host receives a Party in A Box toolkit, which includes helpful items for hosting a memorable event including special guest prizes," says AMANDA HUTCHESON, the group's PR and communications specialist.
Priest explains her passion and the critical need for fundraising for LCFL.
"It is the mission of this organization that makes me proud to be an LCFL teammate. My family personally experienced the blessing of this organization through the care that my sister received during her illness and death," Priest says.
"I knew that it was an organization that I wanted to be a part of, raising money so that our communities have access to the highest quality of life-limiting illness care, regardless of ability to pay," says Priest.
In the past five years, Last Chance for White Pants has raised nearly $800,000. Funds that are raised help support more than $1 million in charity care each year and programs for hospice care; grief care; palliative care for those undergoing serious illness treatment; dementia caregiver support; healing arts programs; and community education.
"We hope that next year we will be back at Cape Fear Audi for the 2021 Edition of Last Chance for White Pants," Priest says. "We are thankful for the continued support we receive from our community to ensure hospice and palliative care is available to everyone in our community."
---
Info: WhitePants.org or 796-7985
---
To view more of photographer Megan Deitz's work, go to megandeitz.com.
Want more WILMA? Click here to sign up for WILMA newsletters and announcements.