Horse Whisperer
Horsing around with Beach Haven Stables owner Jami Powell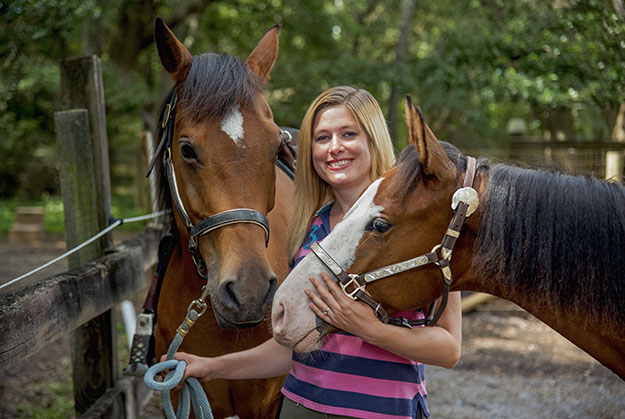 JAMI POWELL, owner of Beach Haven Stables and Equine Services in Wilmington, found a love for riding horses as a small child.
She went to horse camps when she was eight; got her first horse, Miss Kitty, when she was thirteen; and by fourteen had already started teaching horseback riding lessons. Her original goal was to raise enough money teaching lessons to afford to enter horse shows.
"I realized that I loved teaching people how to ride and communicate with horses, especially kids," Powell says.
When she was eighteen, Powell became certified with the American Riding Instructors Association, and she's been teaching and running camps ever since.
About six years ago, Powell used her passion for horses to open a nonprofit called New Hope Haven in Canton, Georgia, where she was living at the time. The goal was to mentor foster kids and people of all ages going through stressful, life-altering situations. She helped people dealing with everything from depression to recovering from traumatic experiences.
"There is just something amazing about horses that reaches kids and adults like nothing else can," Powell says. "They are beautiful, big animals that don't care who you are, what your past is, or what the color of your skin is. They only care about how you treat them … (and) what is going on now, in the moment."
When New Hope Haven shut down, Powell felt a calling to move to Wilmington.
"We love living here," she says. Powell and her family lease a small farm in Ogden, and she wanted to offer a family-farm atmosphere for kids in the area.
"I feel that (it was) important to the kids in our community to be able to come and ride horses and enjoy the farm animals we have," Powell says. Their farm currently has two sheep, two pigs, twenty-five ducks, a lot of chickens, and a large garden.
Powell hopes families who visit will take home lessons.
"I love imparting my love of God, animals, and our natural world to kids," Powell says. "It is truly what motivates me to get up in the morning."
Those interested in signing up their child for horseback riding lessons this summer can consider Ranch Camp at Beach Haven Stables. The day campers experience horseback riding, archery, horseback archery, nature hikes, woodworking, survival skills, caring for animals, map reading skills, and roping. Each child is encouraged to face their fears and work with determination. All children ride with helmets and follow strict safety precautions. Powell insists the children continue to learn discipline as well.
"We have chores every day" she says.
Every Friday camp ends with a bonfire, and each camper is given the opportunity to show off what they learned. The Ranch Camp is open to children ages seven to fourteen. Upcoming camps run June 19-23 and July 10-14.
To view more of Michael Cline Photography's work, go to www.michaelclinephoto.com.