Horse Play
Therapeutic horse riding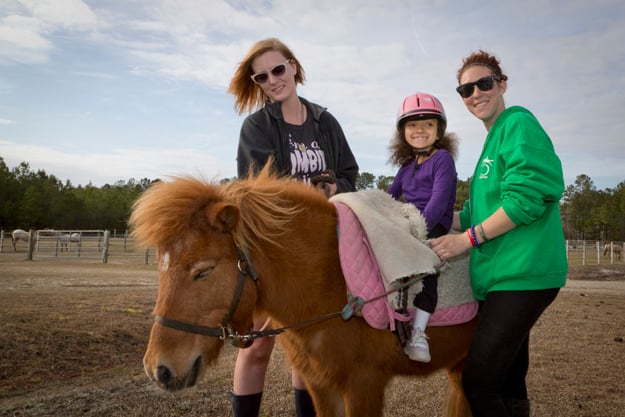 Dressed in her green barn jacket and riding boots, KIM NIGGEL prefers to stay out of the spotlight. For her, it's riders like eight-year-old Ava Skiba who are the stars.
The Ogden Elementary second grader never walked a day in her life. She has no use of her legs – no movement, period – from the waist down.
Ava is lifted from her small steel wheelchair and onto her favorite furry, chestnut-colored Shetland pony named Butterball. Two side-walkers hold her legs to make sure she stays on.
"She just has a great time," says J'vaneté Skiba, Ava's mom. "Riding helps strengthen her core muscles. She's strong and tall when she sits on her horse."
Ava has spina bifida, a nerve disorder she's had since birth.
"In essence, it's left an open hole in her spine," says Diane Skiba, Ava's grandmother.
But when she comes for her weekly lesson, the little girl with the ebullient spirit and irrepressible smile has her world transformed through the joy of riding a horse.
"One day she said something to me I'll never forget," says Diane. "She said, 'Grandma, I can't walk, but when I'm on a horse I can.' "
Finding a forever home
"We started as just a backyard program with a pony, a couple of kids, and a borrowed horse," says Niggel, the executive director who helped found Wilmington's Coastal Therapeutic Riding Program (CTRP) in 1999. Fourteen years later, the nonprofit accredited by the Professional Association of Therapeutic Horsemanship has nine gentle horses, and Niggel says, "We have found our forever home."
That home is an inviting twenty-three-acre horseback riding paradise. The property, just north of Porters Neck, is suited for the program geared to children and adults who face a range of disabilities and illnesses.
"We welcome anyone," says Niggel, a lifelong horsewoman who has a bachelor's degree in early childhood education and play therapy.
The farm boasts a large outdoor sand riding ring, a barn, fourteen paddocks, wooded trails, and a relay course.
"This is one of his joys in life," says Cody Gensler, whose three-year-old son Luke is autistic. "He loves horses. He doesn't see it as therapy. He's a lot happier and more verbal when he comes here."
"We wouldn't be able to bring our son without the special scholarship that covers the cost," says Trish Brown, whose thirteen-year-old son, Jason, has Down syndrome.
The Eshelman Foundation, for example, has provided several years of grants for children's lessons.
"They're playing basketball and doing different activities for hand-eye coordination," says Kim Batten, the foundation's executive director. "It really is a great program unique to this town."
Continuing to grow
Area schools with special needs students organize group trips to the farm. The New Hanover County Sheriff's Office's Youth Violence Intervention Program also has an ongoing partnership to help at-risk kids.
Wilbert Demata, who goes by Will, used to hang out with gang members and dabbled with drugs. "I got into big trouble one day at school," he says. Sheriff's office staff brought him to the farm where he got busy doing all kinds of chores. In return, he fulfilled his own dream and learned how to ride.
"I loved it," says Will, who credits the program and his church for helping turn his life around. The New Hanover High School senior is set to graduate in June and hopes to go to college and into a career in law enforcement.
Those familiar with the program's success give all the credit to Niggel. "She's done this through sheer perseverance. She is truly committed," says Pete Hexter, a Wilmington businessman who helped develop the Miracle Field ballpark.
Niggel hopes to expand her program this summer with something called The Horse Boy method. The approach inspired from a bestselling book and Sundance-featured documentary of the same name, uses a riding discipline called dressage to relax autistic children and help them verbalize.
"We ride with the child in a big Western saddle," says founder Rupert Isaacson, who developed the technique. "In order for the program to work at its optimum, you want the horse to be able to pick up an incredibly collected, rhythmic canter. The reason for that is that it floods the child's body with a feel-good hormone called oxytocin."
Niggel wants to start a capital campaign to build an indoor arena so lessons can go on no matter what Mother Nature delivers outside. For now, she's grateful her farm helps young riders like Ava, Luke, and Will who might not otherwise get the experience.
"Kim's created this place where kids can take advantage of being with these big, beautiful animals," J'vaneté Skiba says. "There's a lot of expense that comes with keeping horses.
Families who are already financially stretched might want to provide riding lessons for their kids but can't because of other therapies. This kind of therapy – riding – is just great."
To view more of photographer Mark Steelman's work, go to www.marksteelmanphoto.com.