Hops On Board
Riding along with the Port City Brew Bus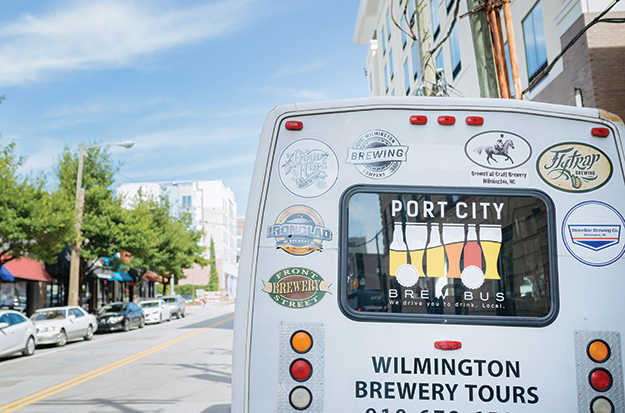 The idea behind the Port City Brew Bus tour is very simple. You drink, they drive, and along the way you get introduced to some founding mothers and fathers of Wilmington's newest industry – craft beer making.
JEREMY TOMLINSON (below, right), who co-founded the Brew Bus in 2014, is an affable IT guy with a passionate love of beer and the patience of a Buddhist monk.
With the entrepreneurial spirit that is as much a hallmark of this decade as craft beer, he saw an opportunity to teach people not only about the process and appreciation of beer, but also to introduce them to the close-knit beer community of Wilmington, a win for both himself and the breweries that participate.
One of the best parts about any drinking tour is not knowing who else is going to be with you.
Strangers get intimate, co-workers get friendly, and it provides a chance to do that ultimate social ritual of getting a little tipsy with people you might not run into at your normal watering hole.
For instance, when I went on a Brew Bus tour, on a seemingly innocuous Friday afternoon, I found myself in the middle of a bachelorette party. The bride-to-be and most of her party were accountants from South Jersey, with the groom's sister and cousin trying to blend in. She had chosen Wilmington as the site of her bachelorette weekend for one reason only: a longtime obsession with the show Dawson's Creek, a fact she got more enthusiastic about as the tour went on. I was more of a Gossip Girl myself.
Tomlinson, a longtime Wilmington resident, accommodated with as many Dawson's Creek stories as he could dredge up from memory, and a side trip past a house Joshua Jackson may or may not have lived in.
But stop whatever preconceived notions about bachelorette parties are already forming in your mind. There were no obscenely-shaped popsicles or feather boas and crowns to be had in this party.
Instead, there were eight intelligent, serious professionals, who all appreciated a good beer and listened attentively as Tomlinson gave them the rundown about what grains a brewer uses for what flavors and how many gallons the new vats at Wilmington Brewing Company hold.
Well, okay, there was one pretty rowdy pretzel necklace game, instigated by Tomlinson, which was a smart way to make sure everyone had something to nibble on before we got started. He knows what he's doing.
And those pretzels definitely helped us keep our cool as we made our way from apricot saisons at Flytrap Brewing, to breakfast stouts at Wilmington Brewing.
Megan, bridesmaid from Colorado, wanted to talk about how water quality affects brewing. Laurie, future sister-in-law, makes it a point with her husband to visit a new brewery every time they go out of town to watch an Eagles game.
These are women who know their beer.
The conversations on the bus ranged from loud appreciation of Great Lakes Brewing Company's Christmas Ale to favorite brewery tours in Tampa. The bride-to-be, Nicole, (in case you can't get it, last names being used were politely declined), said she picked the tour because it was something they could all enjoy together – even the women who had never met the rest of the bridal party until this weekend.
"You know, the first reason was because I like craft beer, and it is my weekend, after all. But it was something I knew everyone could get into," says bride-to-be Nicole.
And it's not even sixty bucks a person, for three hours of drinking, so it's a really good deal. But it's also just a chance to have everyone bond over something we all like," Nicole says, as the girls devour hummus from The Veggie Wagon at the Waterline Brewery Co., our last stop of the day.
During the summer season, the Port City Brew Bus tours are available Thursdays, Fridays, and Saturdays, though during the winter months the schedule drops down to only one tour a week.
They often offer special tours as well, such as the monthly Brew Ha Ha tour that brings stand-up comedians on the bus, performing short shows at the various locations.
There's also the infamous Ugly Sweater tour around Christmas, and this year Tomlinson is considering a Search for the Great Pumpkin tour, to highlight seasonal fall beers.
Beer enthusiasts can opt for either the tour starting downtown at Bombers Bev Co., a favorite bottle shop on Grace Street, or one starting at Lighthouse Beer and Wine in Wrightsville Beach.
To view more of photographer Erik Maasch's work, visit ejmphotography.org.