Hop Hobbyists
At-home beer brewing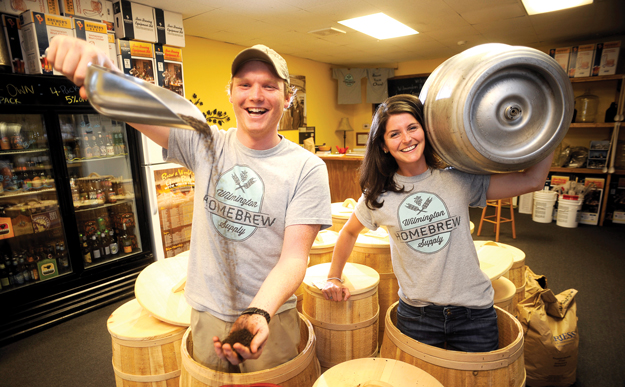 Home brewing is growing in popularity, and Wilmington has a number of places to buy what you need to get started.
For example, Wilmington Homebrew Supply, owned by MICHELLE PECK and JOHN SAVARD, celebrated its one-year anniversary in March. And newly opened Fermental beer and wine shop has set aside space for supplies and books for budding brewers.
With home brewing catching on, shops that cater to the at-home fermenters have grown nationally, with stores reporting a twenty-four percent increase in revenue in 2011 alone, according to the American Homebrewers Association, which has more than 30,000 members.
In Wilmington, Peck and Savard saw a need for a home brew supplies store and have packed their store, 4405-A Wrightsville Avenue, with tools and ingredients for the beginner to the skilled do-it-yourself brewer.
Wilmington Homebrew Supply also has a brewery cookbook in the store of recipes Peck and Savard created from trial and error. They help people figure out how to create specific types of beer when they come in with something in mind.
"It's similar to going to a grocery store and handing them a recipe, then they hand you a box with all ingredients enclosed. Home brewing is a lot like cooking," Peck says.
The store has a lot of regulars, but Peck and Savard also welcome newcomers. On Friday nights 4-7 p.m., the store hosts a free craft beer tasting open to the public. And on Saturdays at 1:30 p.m., they also have a class to show the process of home brewing for those who would like lessons.
Since the store's inception, Peck and Savard have noticed more women visiting and picking up supplies to brew their beer at home.
"There is definitely a beer community in Wilmington. For any woman who is interested, don't be intimidated. It's simple and fun, and you'll love it," Peck says.
Jessica Mallindine agrees. In 2012, she won a silver medal in the annual Homebrew Competition held at Front Street Brewery, 9 North Front Street. She then went on to receive a gold certificate for her home-brewed beer nationally. She won silver again this year in the brewery's contest.
"I am a scientist by trade, and brewing is like an experiment," Mallindine says. "Every detail matters – that's what makes it so exciting."
Kevin Kozak has worked at Front Street Brewery for seven years and is the restaurant's top brewer. It has held the home-brew competition for six years, and Kozak remembers not having any women for the first two competitions. Now, they have female home brewers going home with medals.
"It's nice to have more women entering such a male-dominated sport," says Kozak, who also teaches home brewing.
Kelsie Cole, who placed in this year's competition, is one of Kozak's students. She spent four years studying business and marketing in college and five years selling craft beer. Now, she's enjoying making the products she was taught to sell.
"What man wouldn't enjoy working next to a woman who likes to get her hands dirty?" Cole says.
If you're looking to follow in Cole's steps and need the mechanical supplies to start brewing at home, Fermental also can help out.
Whether you need the book for the how-to or the actual supplies, you can find them at Fermental, 7250 Market Street. A room in the back of the store is dedicated to providing the necessary tools to brew at home – even down to the bottles to put the brew into at the end of the process.
Owner Steve Gibbs has created a laid-back environment at the Ogden store, which opened in March.
From beer soap to bottle wicks, Fermental has everything beer and wine related. Rows of unique wine cover the walls beside numerous coolers of beer. It sells organic beers, gluten-free beers, and even wine ice cream.
Fermental is a retail beer and wine shop that doesn't carry your run-of-the-mill Bud Light. Gibbs searches for hard-to-find beer and wine to bring in for his customers.
The store also has free beer and wine tastings on Friday nights 6-8 p.m.
Gibbs says he plans on expanding the home-brew supplies section once he knows what Wilmington needs.
"There's more interest in the area for home brewing than I thought; a lot of people come in for it," he says.