[Home] Work
Bringing work home isn't always necessarily a bad thing, especially for these local women who have carved out creative spaces in their houses.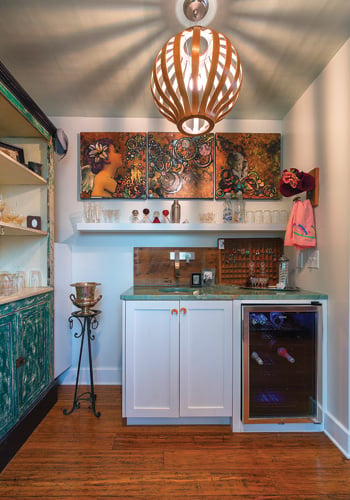 Miriam Oehrlein's jewelry workshop
MIRIAM OEHRLEIN's turning point came in 2012.
She had just won Belk's Southern Designer Showcase, enabling her jewelry designs to be sold in their stores. It was time to move from part-time hobby to full-blown business, and working out of the kitchen, stuffing supplies in closet cubbies didn't cut it anymore.
"I felt validated," Oehrlein says. "This was something I really loved doing, and I needed space doing it."
The idea for a backyard studio was born.
Primarily functioning as her workshop, the elevated shed —both in space and style — serves multiple duties from showroom to overnight bungalow for visitors. With a patio and grill area underneath, it's even become an outdoor gathering space for the family.
Oehrlein and her husband started by taking down an eyesore of a building behind the couple's 1950s Beaumont neighborhood home. With its dirt floor and poor drainage, they used the building, originally the house's garage, mostly as storage for lawn equipment.
They rebuilt from the ground up.
Architectural designer and contractor Bryan Humphrey went to work. Interior design consultant Susan Covington, who served as project manager, helped Oehrlein find pieces for the multi-functioning space.
A sliding wall pieced together from part of the original garage's siding and a salvaged door from her father's church retracts to access Oehrlein's workspace.
Wood reclaimed from an old tobacco drying barn provided the ceiling planks. And the space is peppered with vintage finds, including a primitive cabinet scored at Old Dairy Road Flea Market — "You can spend hours in there," Oehrlein advises — that is used to display barware for the kitchenette (see page 19).
Furniture maker Joseph Hammett built an anchor piece with shelves to showcase Oehrlein's jewelry and house a Murphy bed that pulls down for visitors.
When the bed is hidden away, artwork painted by Michelle Connolly provides a colorful focal point.
"A lot of it looks like jewelry," Oehrlein says about the commissioned, abstract mural. "If you look at the elements of the painting, I see a bear wearing a crown … There are lots of circles; there's a lot of things that look like gemstones."
Every piece old and new has been thoughtfully curated for the space, which is a far cry from the old backyard shed the family once avoided.
Dana Sachs' writing nook
Nearly every item in DANA SACHS' home office comes with a story — fitting for a longtime journalist and novelist.
"It's not like I ever said I need some artwork for my walls," says Sachs, who has penned four books and is working on her fifth.
Instead, she's amassed a collection of memories as decor that also serve as inspiration in her books.
Favorite art pieces, for example, hang from artist friends in Vietnam. Sachs lived several years at different times in Vietnam after first visiting the country twenty-five years ago.
Her writing space overlooks Market Street on the second floor of her Brookwood home, built when the area was still all dairy farm land. She hasn't been able to pinpoint how old the house is through research but was told it functioned as a hospital during the Civil War.
And history continues to seep in around her office.
Copies of Japanese woodblock prints were some of the latest additions. Tucked in between artwork from her two sons, they served as visual cues while writing her most recent novel The Secret of the Nightingale Palace, which came out in 2013. These days, a black-and-white photo of the Shoes on the Danube Bank memorial remembering Jewish victims during World War II hangs near her computer as she works on her latest book.
On a music box table from Denmark (shown bottom right) — bought by her sister for Sachs' son when he turned one, according to a greeting card still saved inside — sits a collection of trinkets from travels and family.
Those include a pink Japanese folding fan, a yellowing, framed stamp of Ho Chi Minh, and a stone egg given to her by her grandmother. The curved-back reading chair in Sachs' office also belonged to her grandmother Rose, a style maven turning 103 this month.
Next to the reading chair, is one of many collections of books in Sachs' home.
Books from other local authors stack up next to a group of W. Somerset Maugham novels Sachs picked up last year in San Francisco and is currently poring through.
Miniature books, also discovered during trips and given by friends, fill in the gaps.
"It's all things that are meaningful to me," Sachs says about the items that make up her writing space, "and I'm trying to find a way to have them in my life."
To view more of photographer Chris Brehmer's work, go to www.chrisbrehmerphotography.com.