Home School, Community Play
In search of classes for home-schooled students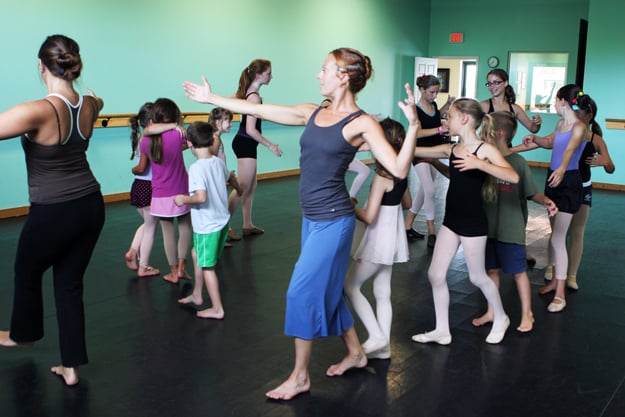 A
s some parents weigh home schooling as an alternative to public schools, one question that often comes up is whether their children can get a healthy dose of social interaction outside traditional classes.
With public schools, parents know their children will meet new friends and have access to different sports and extracurricular activities.
But if a child isn't in a public school environment where the school readily offers after-school classes and sports, how do parents with home-schooled children find extracurricular activities?
One solution for Wilmington area parents has been to create their own.
There are a growing number of online boards and groups created specifically for parents with home-schooled children. The boards were made so parents were able to find others they can share tips with on home schooling as well as find activities for their children.
Dori Schoonmaker originally had her boys, Kyler and Rayne, in public schools. She moved them home after heavy research.
"I probably checked out every book on home-schooling from the local library," Schoonmaker says.
And she finds most of her sons' extracurricular activities through online boards. A lot of the sports they enjoy are at recreation centers around the Carolina Beach area, and there's been no shortage of activities.
"My sons have been able to experience even more extracurricular activities and sports now that they're not in a classroom every day," Schoonmaker says.
There have been a few times Schoonmaker tried to find a class or group online that her kids requested, but there wasn't a group yet. In these cases, she creates the group herself and reaches out on these boards to other parents to have their kids join, too.
There are also area businesses that cater directly to home-schooled children.
The Dance Element in Wilmington, for example, offers a specific class for home-schooled students at the dance studio.
Ashley Barnes, owner of The Dance Element, created the class so home-schooled children would have a place with others in a similar home environment.
"These activities aren't just beneficial to the kids. The parents end up making friends, and then they're able to find more activities, make play dates, and connect with other families," Barnes says.
Parents looking for a creative outlet for their home-schooled children can turn to TMUFFIN, which opened earlier this year on South College Road. Tmuffin owner Gaby Merediz gears the classes towards creativity. There are stations set up where children from ages one to twelve can paint, draw, play music, and more.
"The creative playtime is good for home-schooled children. They're able to connect with other children, but most importantly they have a place to play and learn, both from their surroundings and from other children," Merediz said.
Tmuffin reaches out specifically to home-schooled children on its website so they have a place to learn duing the day. Merediz thinks it's important to create an environment for children to interact with each other while being able to express themselves creatively.
One of the benefits to meeting other parents with home-schooled children at Tmuffin or The Dance Element is finding out about other groups. While the children dance and play, the parents catch up on new groups and upcoming sports at the local recreation centers.
There are many reasons parents say they find home schooling to be an option for their families.
About thirty-six percent of children are brought home so they're provided with a religious or moral instruction, according to one survey on parents' attitudes done by the National Center for Education Statistics. Concerns about school safety and academic instruction were other major reasons cited for turning to home schooling, according to the national survey.
Others simply want a non-traditional approach.
"The boys have learned more about life lessons and problem solving being able to live outside of a classroom," Schoonmaker says. "The only thing I really miss is the free daytime babysitting."
To view more of photographer Kristen Corley's work, go to www.kristencorley.com.